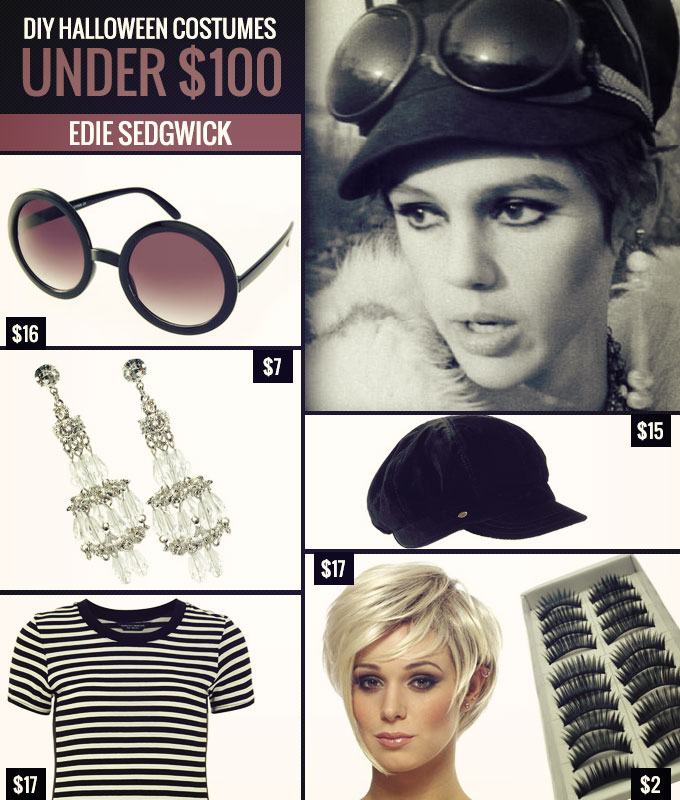 Yes, she's a factory girl, but not that kind of factory. Andy Warhol's Factory, of course.
Our favorite go-to costume for Halloween (and sometimes just for funsies) is the iconic and tragic Edie Sedgwick.
The '60s starlet inspired not only Warhol, Velvet Underground and  Bob Dylan, but her iconic likeness lives on the pages of many fashion magazines that have tried to emulate her signature style.
For a simple yet intense Edie Sedgwick costume, dig out some thick black tights, a black fitted, above-the-knee mini skirt and pair with a black and white striped top, big chandelier earrings, Edie's signature newsboy cap and round, oversized sunglasses.
Last – but definitely not least – you'll need some thick eyebrows (draw them on with some eyeliner if needed), black smokey eyeliner, and big batting lashes. Be sure to watch this awesome makeup video tutorial that shows you how to easily get Edie's dramatic look.
This look works better for blondes with pixie cuts or Miley Cyrus hair, but you can always buy a wig on the cheap, like this $17 dollar "Victoria" wig (we recommend chopping this wig up a bit for an authentic Edie pixie do).
And if you've got a date, we've got the perfect Warhol costume.
SHOPPING LIST
Sunglasses: Asos Round Sunglasses, $16
Hat: Betmar Velvet Newsboy Cap (For Women), $15
Earrings: ASOS Ballroom Chandelier Earring, $7
Wig: Victoria Wig – Mixed Blonde, $17
Lashes: 10 Pair Long Black False Eyelashes Eye Lashes Makeup, $2
Shirt: Stripe leather look side tee, $17
AT HOME LIST
Thick, black tights, black flats, a black fitted, above-the-knee mini skirt.