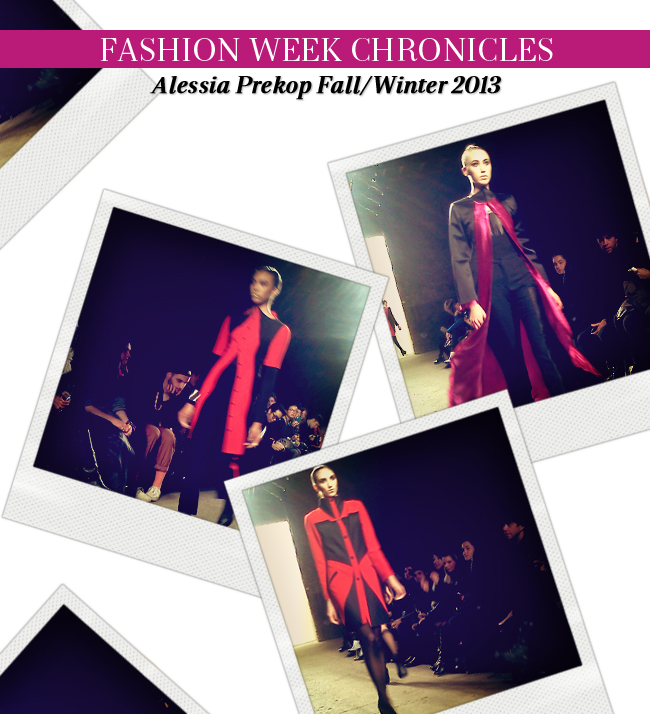 Though most of the attention and flash bulbs are aimed at Lincoln Center during February and September's fashion weeks, it's at the events scattered across the Meatpacking district and Midtown where some of the best new things are happening, sans a million dollar runway show. That's just what happened last night, at Alessia Prekop's forward-looking show at Eyebeam Studios on 21st Street and 11th Avenue.
The Italian-born, London-reared designer's aesthetic revolves around dichotomies—bright and dark, sharp and soft, sculptural and minimal.
This season saw an expansion on the themes of sleek dresses in black and bright with a series of structural coats and more involved gowns. Standouts included a cape-like overdress in hot pink lined black satin and several geometrically minded black and red coats.
There was a definite sleekness to everything from the beauty to the shoes (the models wore slicked back braids and futuristic black and gold smoky eyes and walked in black heels that were either lightly fetish-inspired or highly architectural), but where the show succeeded most was in the workmanship.
Even from a few inches away it was obvious that Prekop has put her training to good use: even the simpler-seeming pieces were complex in their construction, with radiating seams and billows. They were editorial and absolutely wearable—a strength that many a seasoned designer loses sight of at some point, and one that most young designers struggle with. Prekop has the groundwork and the eye to become a name in the next few seasons if she can broaden her scope a bit. [divider]
Photo: Alessia Prekop FW2013 – Credits: Dan Lecca Photography[hr]