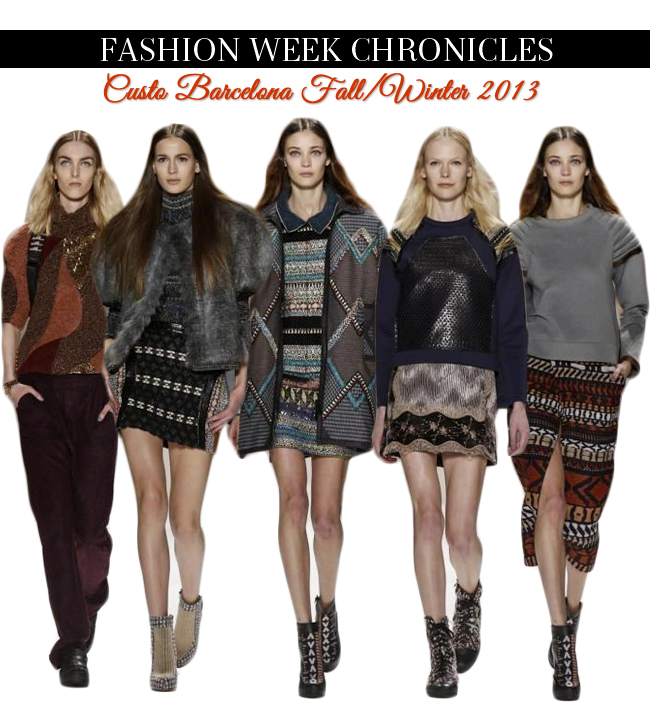 Though it was, as per usual, billed as the most high energy show of fashion week, this season's Custo Barcelona show was less obviously intense than perhaps any other of his collections. This does not mean that it wasn't a bit of a mess at times.
It's important to say that the Custo Barcelona girl is not the front row fashion week girl or the New York magazine girl. She's a Barcelona girl, and in general Spain is more welcoming to zig-zag ribbon and riots of knits than New York.
That said, while the show had some flashes of sophisticated delicacy and interesting proportions, they were offset by that trademark anarchic mash-up of print and trim and pockets that makes many a nose turn up at Mr. Dalmau's work.
The menswear had its moments—trim printed suits in a somber palette were certainly wearable for a certain crowd, though it's hard to imagine any guy throwing a massive knit cape around his shoulders any time soon.
There was also a definite step away from the cartoonish graphic screen prints that have been Custo's bread and butter for the past few decades. This is a very good step, as it seems to have been replaced in the lineup by Custo's idea of what a more subtle, grown-up, cold-weather friendly lady would wear.
There were peeks of a beautiful city-lights printed jumpsuit and a bevy of sparkly, fringed mini-dresses under woolen coats (the theme here was Beauty and the Beast; this translated to bulky wool and frothy sparkle), but it was too hard to forget the patchwork fur and itchy looking wool mini skirt, even in their presence.