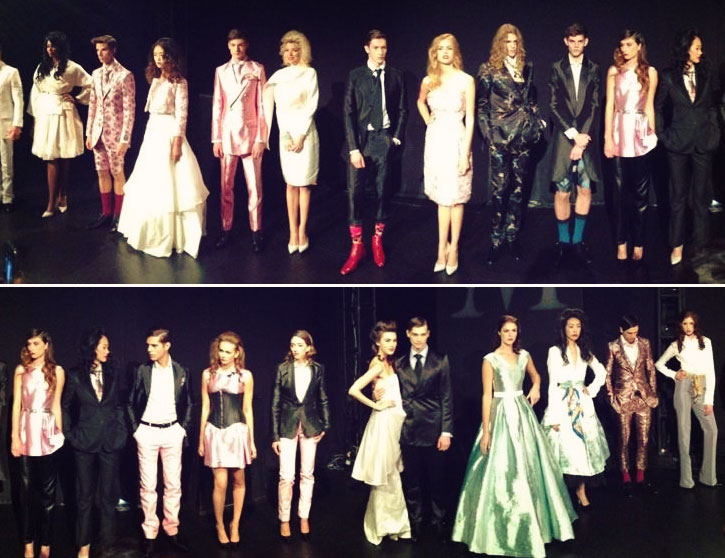 As the lithe opera singer, Baiyu Chen, sang in live, romantic falsetto, the crowd at the Malan Breton S/S 2014 presentation at Lincoln Center behaved less than gracefully in their ogling and shoving to the front.
Fashion photographers and iPhoners alike, obnoxiously held position in the front, like squatters in abandoned tenements or the Roman legion in attack formation. Even around Baiyu, people shoved around and she stopped at least once to re-adjust the cable to her microphone.
Presentations tend to be best observed when models are elevated on platforms and centrally placed rather than squared up, backs against the wall, like a criminal line up, which disallows observation of the clothing from behind.
But aside from the ill-formed room plan, the collection shined. And by shine, I mean quite literally.
Polished satin, metallic jacquard, and patterned brocade in deep blues, reds, pinks, silver and gold, reflected the spotlights under which they were shown.
The Asian inspiration is clear for the Taiwanese-born American, Breton, whose previous collections have also been rich in an East meets West aesthetic.
In vogue with Western trends, the men's suits featured slim-cut trousers cropped above the ankles paired with lapel-less blazers, reminding one of traditional Chinese dress.
The best offerings of Breton's womenswear were his ankle-length gowns, cinched demurely and beautiful at the waist, topped with shining cropped jackets.
Though not wildly creative, the dresses achieved what was intended: a feminine, classic elegance.
---

Sinta Jimenez is currently obsessed with Opening Ceremony collaborations, Band of Outsiders, warabi mochi from Temari Cafe, meteor showers, and finding a Jeff Buckley soul with a Jason Segel sense of humor.
All author posts