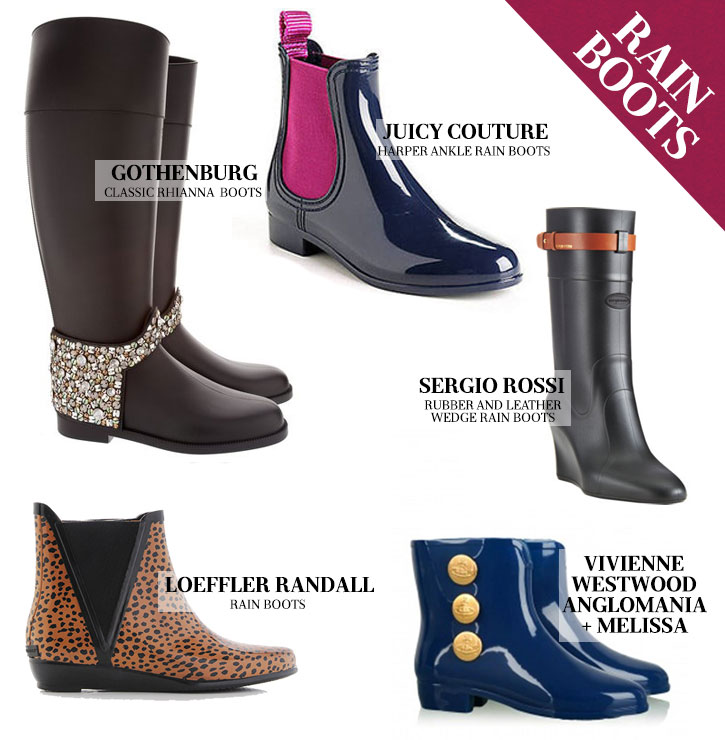 In true April fashion, the showers have begun to fall and spring is making its presence well-known.  With unpredictable weather that is sunny one moment and cloudy the next, a gal has gotta be prepared…which is precisely the reason why we're shopping for the perfect rain boot.
This season–unlike past seasons when rain boots came in only one silhouette–the options are endless.
No longer a slave to choosing between ubiquitous Burberry plaids, overly-bright florals, and polka dots, you'll love the modern twist that designers are incorporating in an upgraded clunky rain boot—and so far, we do, too.
The new rain boot comes in bootie form, mid-calf, and even high-heeled (for all those girly-girls that have a Victoria Beckham attitude about wearing flats). We're also seeing a strong selection of rain boots available in on-trend prints, like leopard, lace and ombre.
And the best news? You don't have to pay a fortune to own a pair. Take a look at our 5 favorite rain boots that we intend on rocking during the April showers while we anticipate the May flowers.[hr]
THE LINKS