[column size="one-half"]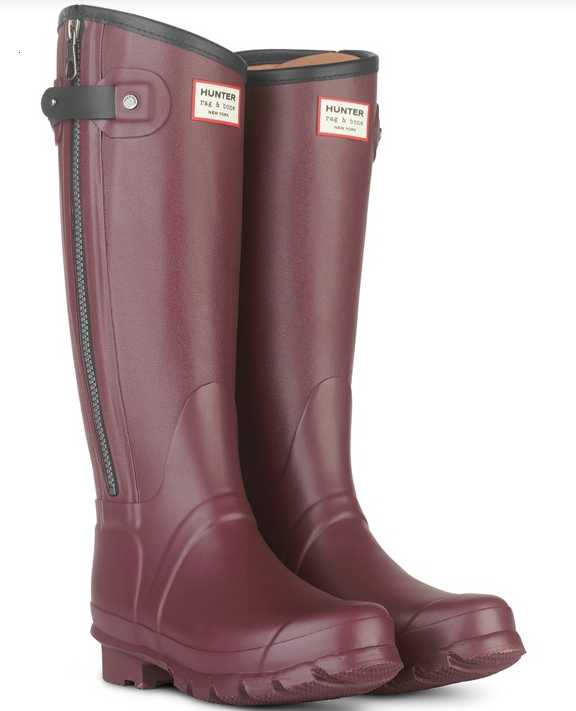 [/column]
[column size="one-half" last="true"][justified_image_grid link="file" ids="55843,55842,55841,55840,55839″ row_height=150]
[/column]
In an effort to add variety to their classic rain boot seasonal offerings, Wellington boot maker, Hunter Boot Ltd,  has recently tapped into the power of designer collaborations.
The Edinburgh, Scotland-based brand tapped designers Jimmy Choo and J. Mendel–both offering very glamorous takes on the classic wellington rain boots–for their last collaboration collections.  However, for this new collaboration, Hunter has teamed up with Rag & Bone to create a small collection of boots in anticipation for the fall season.
Rag & Bone, an American fashion label with strong British roots, offers a cool, city-chic feel to this new collection. These boots offer a similar silhouette to the classic boot, adding a gunmetal zipper up the side, giving the boot a military feel in five colors perfect for fall. This collection, Hunter X Rag & Bone, offers both short and tall boot options, allowing for the perfect fashion accessory for the coming fall rainy days.
The choice for Hunter to collaborate with Rag & Bone is not surprising. Both fashion labels have strong British roots, and with that comes an understanding of the need to look chic in a torrential downpour. This past spring, Rag & Bone booties were a staple in most celebrities' closets. With fans like Gwyneth Paltrow, Cameron Diaz, and Miranda Kerr, to name only a few, the popularity of this brand and their boots is only increasing with the new fall collection.
Look for the Classic Newbury and Harrow Boots to be big sellers this upcoming season, in addition to the Hunter x Rag & Bone collection.
This collaboration hits stores September 9, but they can be preordered online at Rag & Bone.
---

Lindsey is a writer based in Washington, D.C. She is currently in her third year at The George Washington University studying Business Administration. Lindsey enjoys spending time working at DC's famed Georgetown Cupcake, and in her spare time watches anything that smells like an Oscar nomination. Lindsey is currently obsessed with Skyping with her dog, listening to Avicii on monument runs and making pancakes at midnight.
All author posts