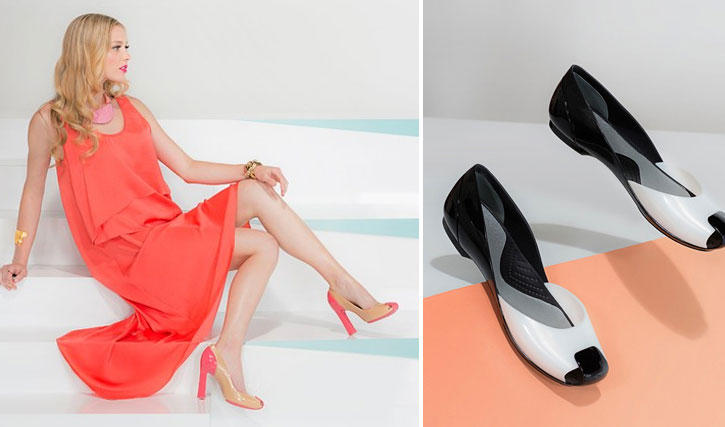 When you think of Crocs shoes, what words come to mind?  We can certainly think of a few, like Midwest tourists, chefs, soccer moms and Rosie O'Donnell. But dowdiness aside, we can guarantee that the word "upscale" would never be uttered from our mouths when describing the rubbery clogs.
In an effort to reach out to a more fashion-forward audience, Crocs is looking to re-brand itself  with a new "upscale" collection that will be comprised of mostly pumps and flats.
The agency, Soldier, in charge of branding for Crocs really has its work cut out for them. However, the VP of communications for Crocs claims that this line, which will be sold under the Stefano Furiani name, is  the "alter-ego of Crocs."
Shoes from the Stefano Furiani Croc collection, to be sold exclusively sold on Zappos.com, will come with an upscale pricetag at $80 to $120 per pair..
Who knows, maybe if  UGGs can cross over to the shoes-we-maybe-would-be-caught-wearing-in-public territory, perhaps Crocs can do it, too.
---

Bridget is a writer, stylist, and vintage clothing dealer based in Kennett Square, Pennsylvania. Bridget enjoys spending time with her boyfriend and guinea pig, and in her spare time sells vintage at local flea markets . Bridget is currently obsessed with Zooey Deschanel's wardrobe on New Girl, Moroccan food, and microcars.
All author posts