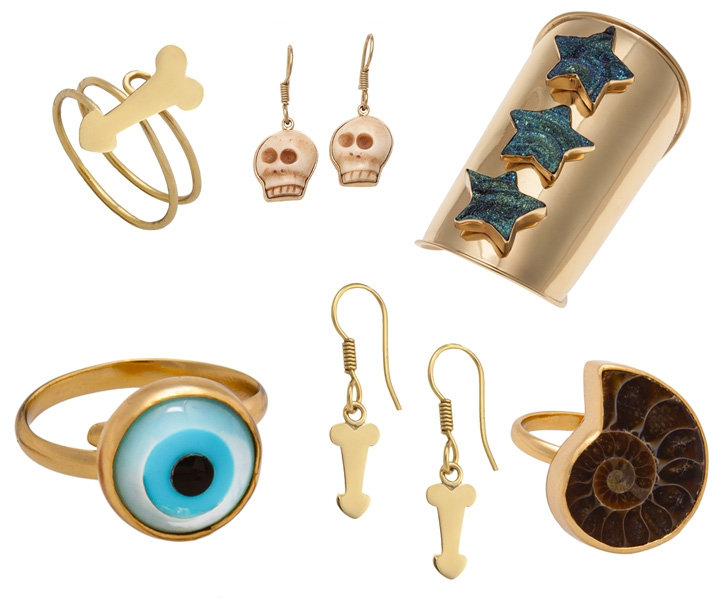 What can we say that's not already been said about Ke$ha.
Often a red carpet tragic fashion victim, and sometimes considered a poor man's Lady Gaga, one thing is for certain–whether she's talking about having sex with dead ghosts, or her love of whiskey, the songwriter/singer manages to keep people talking about her, even if they are rolling their eyes while doing so.
And because Ke$ha is known for her good taste, it would obviously make sense that she would start her own jewelry line. Because who doesn't want to look like a glittered and bedazzled street walker?
We're not even sure where to begin with Ke$ha's Kesha Rose by Charles Albert jewelry collection, except to say that it's bizarre (and not in a  good Jeremy Scott kind of way ).
If wearing penises is your bag,  you might like the penis earrings and  ring, which brings new meaning to  "having a guy wrapped around your finger."
Other "treasures" found within the  disjointed and unoriginal collection include a skull and rose choker (been there, done that), eyeball ring, and a gold tooth necklace.
Some of the pieces in the collection allegedly are more than just jewelry, they also possess metaphysical properties. OKAY. SURE.
The metal is a blend of base metals called Alchemía or "Zero Karat Gold," which is good news because it won't turn your finger green and has the look of 18K gold.
As we suspected, this line is selling like hotcakes.
Our advice: Don't wear a penis ring, no one around you will take you seriously with cock in hand.
In other news, Kristen Stewart is publishing a book about how to be more social and outwardly happy.
---

Bridget is a writer, stylist, and vintage clothing dealer based in Kennett Square, Pennsylvania. Bridget enjoys spending time with her boyfriend and guinea pig, and in her spare time sells vintage at local flea markets . Bridget is currently obsessed with Zooey Deschanel's wardrobe on New Girl, Moroccan food, and microcars.
All author posts