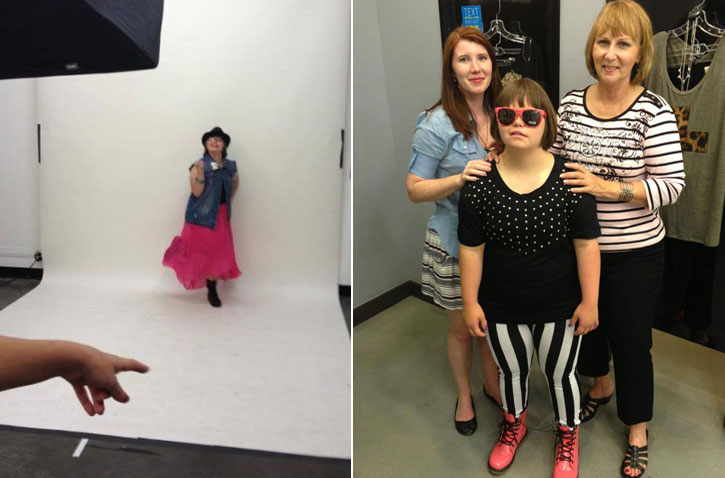 Disclaimer: This story might make you a little misty-eyed.
Modeling has come a long way from its past filled with waif-like women sauntering down the runway. Models of all shapes, sizes, and races are being accepted into the fashion world. We have even seen transgendered and albino models.
And thanks to 17-year-old Karrie Brown, a new page has been turned in the history of modeling.
Karrie has down syndrome and is appearing in an upcoming Wet Seal campaign, a shining moment for the teen who adores their clothing.
Her mother, Sue Brown, started a modeling Facebook page for the teen which has now gained over 21,000 likes. This page caught the attention of her fans who noticed the teen's love for Wet Seal. Their tweets then got the attention of the clothing retailer who says that they "believe in diversity and inclusion."
Living up to their beliefs, the company flew the teen and her mother to California for a photo shoot and lots of fun. Karrie and her mother were given a hotel room, a trip to Disneyland, and a Wet Seal shopping spree. While on set at the shoot, Karrie requested Justin Beiber music to get warmed up. She had a blast and would like to give it another go in the future.
This decision speaks volumes for Wet Seal and it's not surprising that they have gained the respect of many.
Karrie's mom is working on a nonprofit foundation, Karried Away, which aims to help young people with disabilities find jobs outside of the service industry. As for Karrie, she hopes to go to college and study history, but for now, she is torn between modeling and becoming a librarian.
Kudos to Karrie and Wet Seal for a job well done!
---

Bridget is a writer, stylist, and vintage clothing dealer based in Kennett Square, Pennsylvania. Bridget enjoys spending time with her boyfriend and guinea pig, and in her spare time sells vintage at local flea markets . Bridget is currently obsessed with Zooey Deschanel's wardrobe on New Girl, Moroccan food, and microcars.
All author posts