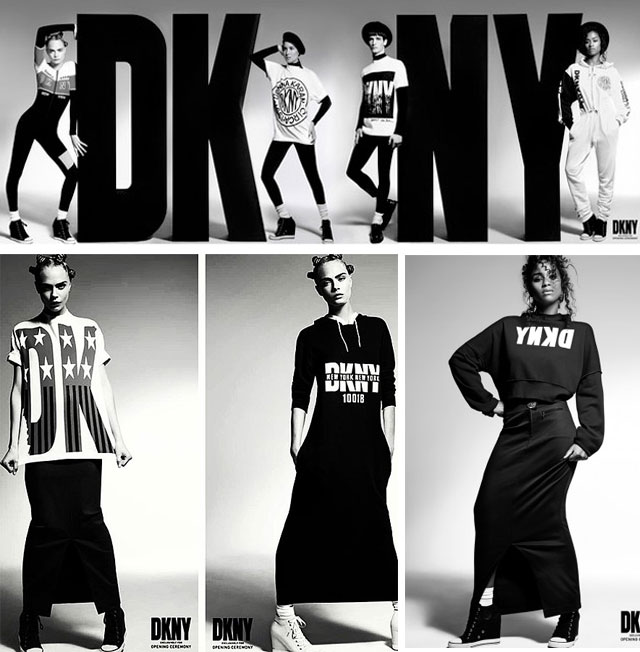 The year was 1992. Kate Moss and Naomi Campbell were superstars. Grunge had found a permanent home with bands like Pearl Jam and Nirvana reining over the airwaves. Whitney Houston made her acting debut and fans couldn't get enough of Whitney Houston's  song "I Will Always Love You" featured in the film "The Bodyguard."
In '90s fashion, DKNY was the "it" brand for streetwear. With their oversized sweatshirts, hoodies and long sporty skirts,  DKNY was the go-to brand for all the downtown cool kids.  Even The Notorious B.I.G. sung about putting his "hoes in NY onto DKNY" in his 1996 "Hypnotize" song.
But if you missed the fashion wave of the '90s, you're in luck.  Opening Ceremony is making what's old, new again.
In honor of Donna Karan and her fashion legacy, Opening Ceremony is reissuing 15 of DKNY's pieces from the early '90s ('91-'94 to be exact). The pieces include quintessential tees with the New York skyline and the iconic DKNY logo which was painted as a mural on Houston at Broadway in New York.  Also in the lineup are jumpsuits, a bodysuit and a hooded maxi dress. Retail prices for individual pieces within the collection will range from $145 to $665.
With the return MTV's "House of Style" this past August and a strong presence of  grunge and feminine florals on the Spring 2013 runways, it's evident that '90s fashion influences are here to stay, at least for a while.
Although most people reading this were probably more concerned about what their Barbie doll was wearing in the early '90s, it is easy to look back and imagine a time when New York, as well as street style,was changing rapidly; making a change that would symbolize an important era in fashion history.
---

Bridget is a writer, stylist, and vintage clothing dealer based in Kennett Square, Pennsylvania. Bridget enjoys spending time with her boyfriend and guinea pig, and in her spare time sells vintage at local flea markets . Bridget is currently obsessed with Zooey Deschanel's wardrobe on New Girl, Moroccan food, and microcars.
All author posts