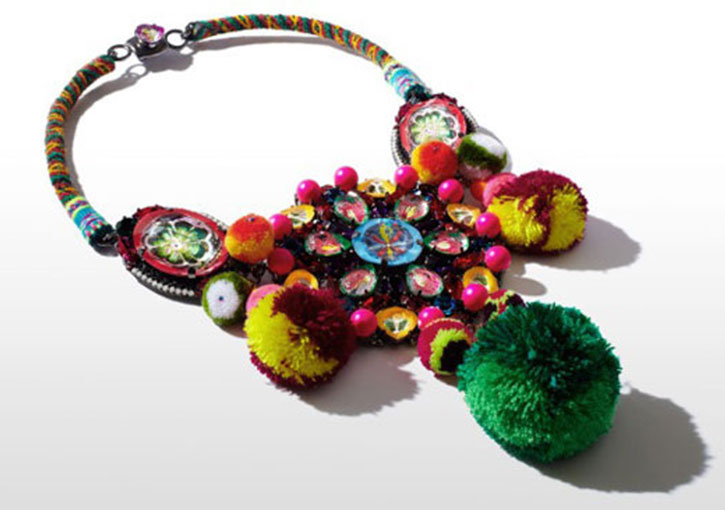 We love Mario Testino. We also love Peru.
A peaceful and mystical country, Peruvian textiles are known for their vibrant colors and interesting patterns. Mix the two together and you get MATE, Testino's capsule collection created for Net-A-Porter.
Well-known for his photography skills, Testino is now exploring a new realm of the fashion world.
Aside from his photos of high fashion, Testino also compiled a book of images from rural Peru entitled "Alta Moda." It is from these images that the prints found within the collection were formed. Each piece features an abstract print pulled from the book.
The collection includes T-shirts, scarves, kaftans and bags. Jewelry designer Vicki Beamon of Erickson Beamon is creating the accessories.
Some of our favorite pieces include a makeup bag complete with pom poms and a large bib necklace featuring vibrant colors, beading, and even more pom poms.
The collection will launch in early June with a portion of  the proceeds to benefit Testino's arts foundation.
Testino studied economics at the University of Peru and then moved to California to study international affairs, it was when he moved to London that he decided fashion photography was the right career for him. He has photographed countless celebrities and was also featured in the cult-hit "The September Issue" featuring Anna Wintour and Grace Coddington.
What do you think of Testino's transition from photographer to designer?
---

Bridget is a writer, stylist, and vintage clothing dealer based in Kennett Square, Pennsylvania. Bridget enjoys spending time with her boyfriend and guinea pig, and in her spare time sells vintage at local flea markets . Bridget is currently obsessed with Zooey Deschanel's wardrobe on New Girl, Moroccan food, and microcars.
All author posts