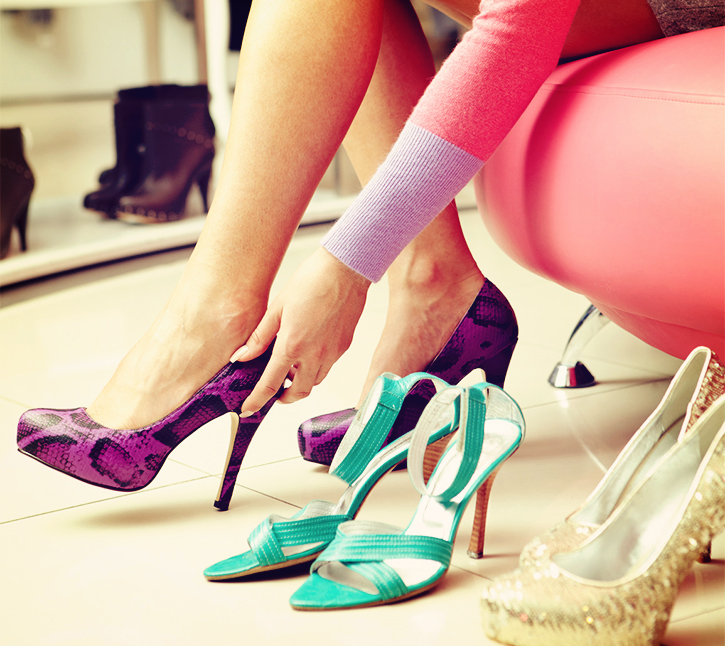 I love shoes. You love shoes. We all love shoes. The great Carrie Bradshaw said it best, "I will literally be the old woman who lived in her shoes!"
Haven't we all felt this way? Perhaps after splurging on an expensive pair without inhibitions, we have often felt that our love for shoes has reached an unhealthy level.
Showrooming, a practice that brick-and-mortar stores want to end, could change it all.
What does showrooming mean, exactly? You know how you go to your local shoe store to try on that perfect pair of shoes?  It fits perfectly, but the price doesn't. You  know you can  find that exact same shoe cheaper, and as a result, you go home and scour the internets for a more reasonable price? Yep, that is call showrooming, my friends.
And yes, we've all done it before, whether for an iPad or your next shoe obsession.
According to WWD, in an effort to combat showrooming, a group of independent show retailers want to charge you a shoe-fitting fee ranging from $5 to $25. That means for each shoe you try on, it will cost you a minimum of $5.  And for someone like us, that tries on multiple pairs of shoes for the perfect pair, you could easily rack up more than $100 without even purchasing a shoe.
We wonder is this new practice might hurt brick-and-mortar retailers even more.
What do you think about try-on fees? Would a $5 to $25 try on fee  discourage you from buying your shoes at stores?
---

Bridget is a writer, stylist, and vintage clothing dealer based in Kennett Square, Pennsylvania. Bridget enjoys spending time with her boyfriend and guinea pig, and in her spare time sells vintage at local flea markets . Bridget is currently obsessed with Zooey Deschanel's wardrobe on New Girl, Moroccan food, and microcars.
All author posts