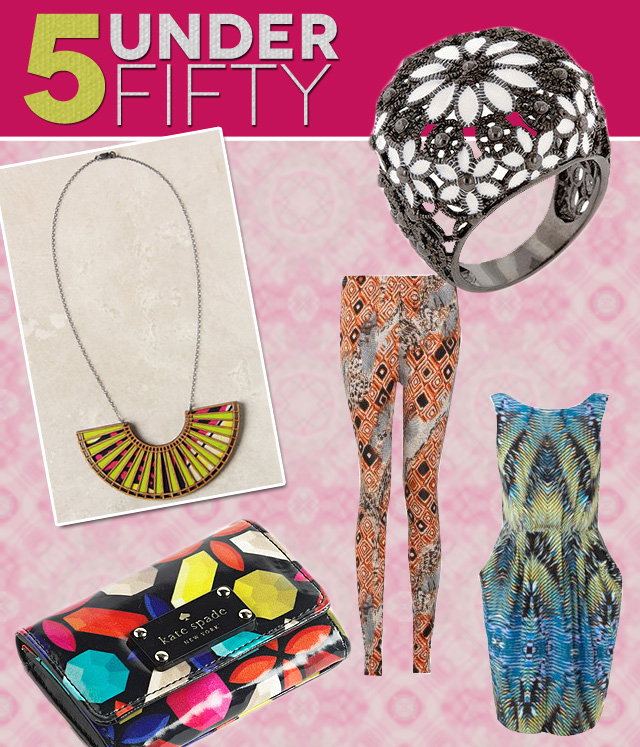 Invented in 1815 by Sir David Brewster, who, at the time, was conducting experiments on light polarization, the kaleidoscope — with its multi-colors, geometric angles and trick mirror imagery — has been a form of visual entertainment for many decades.
During the Victorian age, the kaleidoscope peaked in popularity, as most families during that time kept a scope in the family parlor for entertainment purposes.
And although the kaleidoscope has remained popular throughout history, the heyday of the reflective pattern was in the 70s, when artists incorporated the repeating reflections as patterns into their abstract, psychedelic artwork.
In present day, more than 40 years later, the kaleidoscope is making a fashion revival with designers like Peter Pilotto and Georgio Armani, who both included the fun print into their spring 2013 collections. And it should be no surprise that we're digging the pattern for spring, too.
Check out today's 5 Under Fifty picks, which feature our favorite groovy kaleidoscope prints.
[box title="5 Under Fifty Links" color="#000000″]
Gynna's White Flower Kaleidoscope Design Black Cocktail Ring | $35
KATE SPADE NEW YORK Darla Kaleidoscope Wallet | $40
Anthropologie Pax Necklace | $49
She & Her Orange Square Leopard Printed Leggings | $16
[/box]
---

Audrey is currently obsessed with humorous puns, Erte, Thursday nights on NBC, and scrolling through couture millinery websites..
All author posts