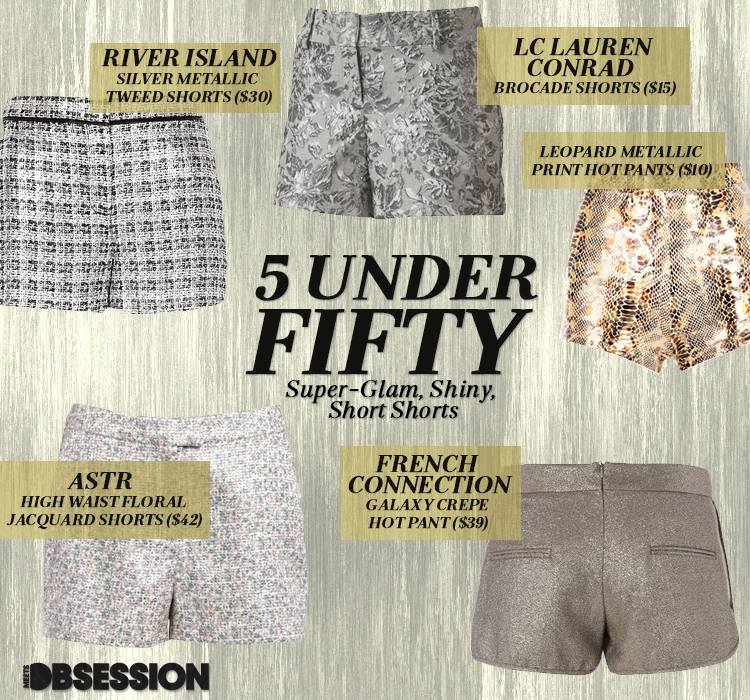 [dropcap]M[/dropcap]etallic shorts are back like never before. No longer just reserved for strippers and American Apparel ads, there's a looser and more fashion-forward version in town that doesn't just come in size tight, silver and shiny.  Designers are embracing the short shorts in luxe, rich materials and prints—like tweed, jacquard, and brocades— and we just can't get enough.
For today's 5 Under Fifty, we're getting our shiny on with metallic shorts, which we find to be super-versatile (not to mention super-glam) and perfect for the current temperatures. For a cool daytime, downtown look, try wearing the disco-inspired shorts with tights, a loose-fitting blouse and a blazer. For shoe options, go for a flat or an ankle boot.  You can also easily transition to evening glam by changing to a chunky heel and by adding bold statement jewelry.
And while mixing metals is perfectly fine, be careful, ladies, don't try to go all match-matchy with your metallics.  There's only enough room for one showstopper in your look.
Here are five amazing metallic shorts–all under $50–which make us  both shiny and happy, just like the REM song says.
[hr]
THE LINKS
---

Audrey is currently obsessed with humorous puns, Erte, Thursday nights on NBC, and scrolling through couture millinery websites..
All author posts