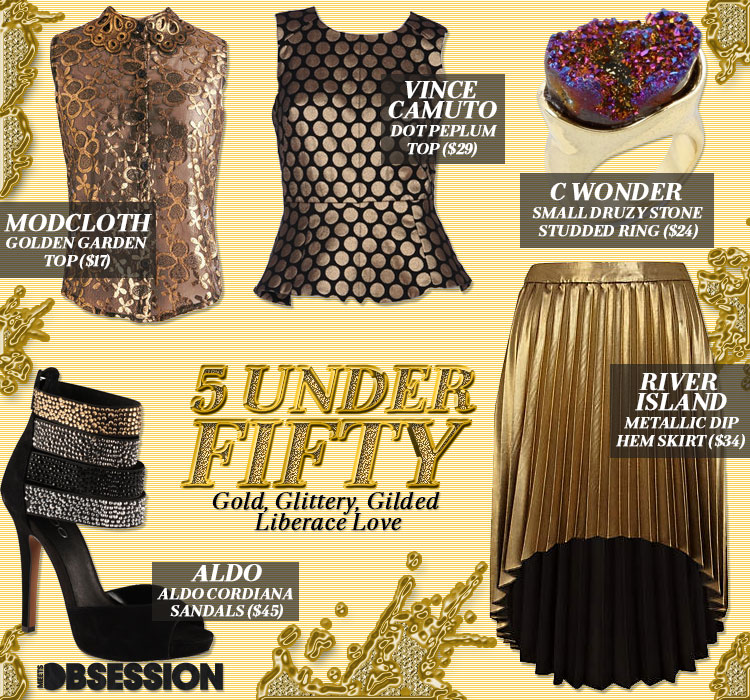 This past Memorial Day weekend, also known as Bluth weekend, was the debut of the glitzy HBO film, "Behind The Candelabra," starring Michael Douglas as Liberace and Matt Damon as Liberace's longtime lover/driver Scott Thorson.
While Douglas played the schmaltzy, over-the-top pianist to perfection—really, who could forget his one-liners?—the often crystal-covered, flamboyant fashion that Douglas wore throughout the film was the real star of the HBO film gem.
Not a slave to style editing, Liberace's fashion was all about excess.  With a hand dripped in gold rings, and his rhinestones, fur, sequins, glitter, feathers and diamonds–often in the same one outfit—there was no question that Liberace was all about the razzle and dazzle. And dazzled we were.
We were so inspired, that for today's Five Under $50, we've injected a bit of Liberace love into our five–always under $50–picks.
Gold, glittery and glamorous, these 5 fashion picks will surely add a bold statement to any look. But be warned, darlings, tread lightly and pair our picks with non-competing companions.
THE LINKS
Vince Camuto Dot Peplum Top | $29
River Island Gold Metallic Dip Hem Skirt | $34
Modcloth Golden Garden Top | $17