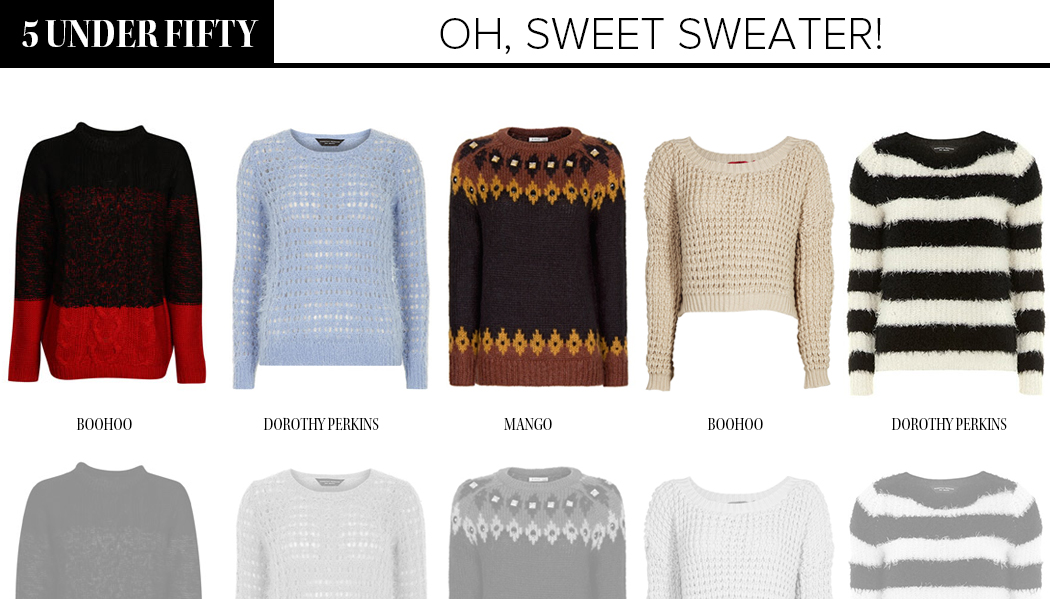 We've hunkered down in the MO offices, with our heaters on full blast, to avoid the super cold temps while our bodies catch up to the fact that the warm days of summer are  long-gone.
And although summer is well over — at least until mid-2014 —  we can still relish in the fact that winter has tons of style options, like layering, luxe knits and a bountiful selection of boots.
But what we're most looking forward to is rocking a cozy, winter sweater—one that won't make us look like a cast member of the "Cosby Show."  Luckily, there are tons of affordable and stylish options.  Irresistible, heavenly fluffiness ahead. You've been warned.
THE LINKS
Dorothy Perkins Blue Stitchy Fluffy Jumper ($49) | Boohoo Beth Chunky Crop Knit Jumper ($36) | Dorothy Perkins Black/White Fluffy Jumper ($49) | Mango Mohair Borders Jumper ($49) | Boohoo Sandya Graduated Cable Knit Jumper ($44)
Tags:
5 Under Fifty
,
Five Under Fifty
,
Sweaters