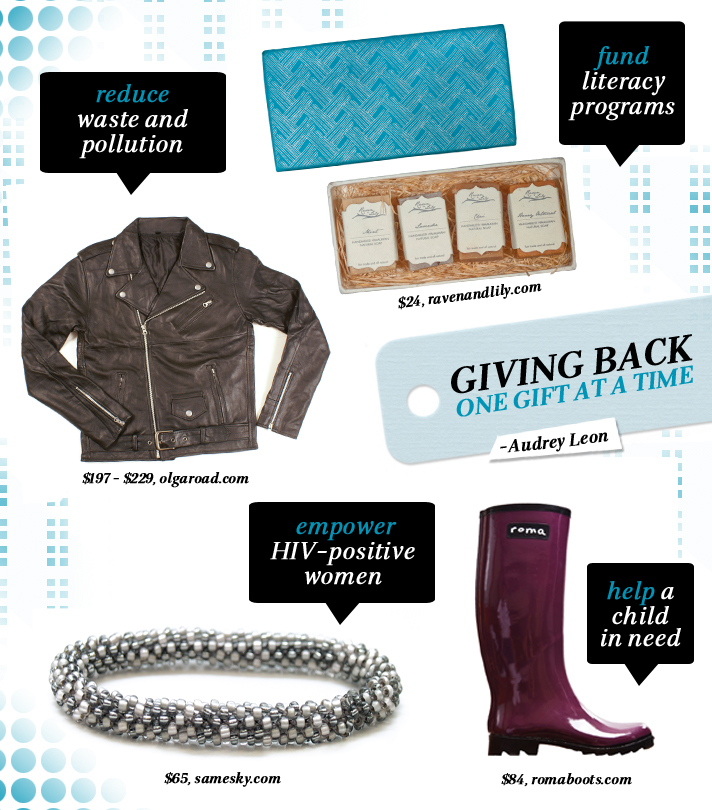 Over the next few months, our calendars will booked with birthdays and few other usual suspect girlfriend gatherings, all of which will require us to bring cool, fashion-forward gifts.
When the time comes, not only will we be buying great gifts that we're sure our friends will love, but we also intend to give back.
By choosing gifts that have a bigger goal—like giving back to the community, the environment or by supporting humanitarian missions—we can also help transform the life of a child, woman or family. And really, what's not to love about that?
Here's what we've got on our gift list this season.  What's on yours?
Same Sky Earl Gray prosperity bracelet
Same Sky empowers HIV-positive women artisans in Rwanda. Join their mission of lifting these women out of poverty by bringing home one of their beautiful handmade pieces.
$65, Samesky.com
Buy One Give One Roma Rain Boot
"Selling boots to the fortunate. Giving boots to the less fortunate." – Roma Boots.  For every pair of boots purchased, a pair will be sent to a child in need.
$84, Romaboots.com
Olga Road Cypress Upcycled Leather Jacket
Toughen your look—and be good to the environment—with an upcycled leather jacket from Olga Road. Different from recycled, upcycled creates something new out of something old without the resource and energy-consuming process.
$197 – $229, Olgaroad.com
Raven + Lily Handmade Soap Gift Set
This fair trade soap, which is made in Northern India, uses all-natural and organic ingredients. The best part? Proceeds from the collection help fund literacy programs for the women artisans and children in the community.
$24, Ravenandlily.com
Tags:
Gifts for Good
,
Nonprofit