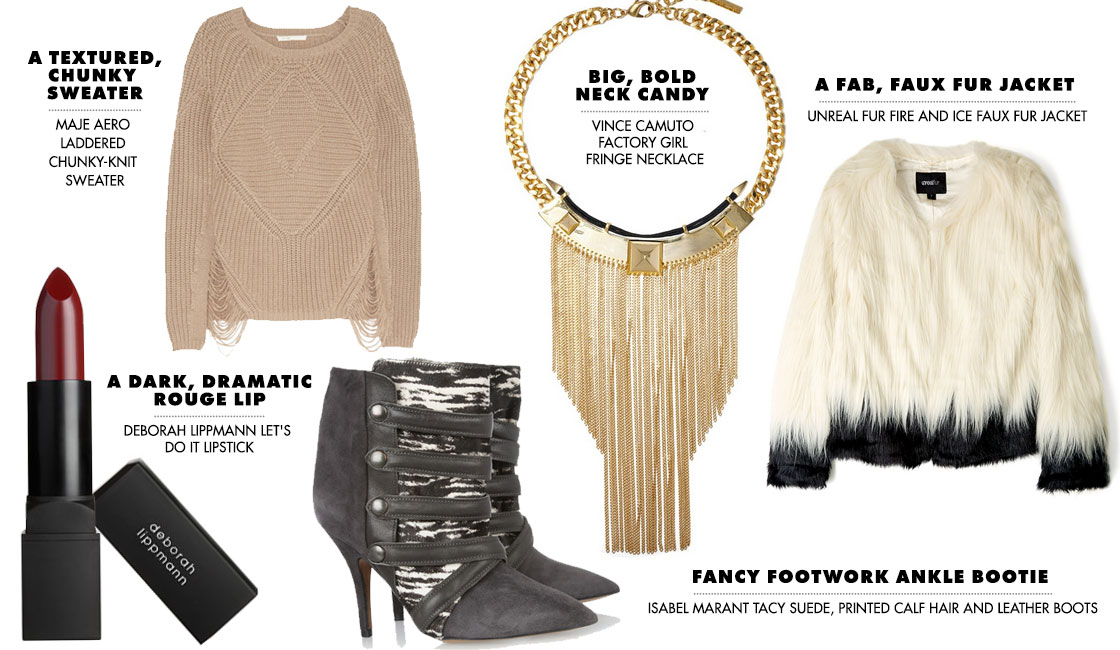 That inevitable moment when summer officially comes to an end is only a few days away.
And although we're a bit sad that we'll no longer be able to enjoy long, sunny days on the beach, what keeps us from getting the post-summer blues is the fact that fall brings the return of a few of our most beloved fashion items.
Layered and luxe clothing, fancy ankle booties and fabulous faux fur jackets are just a few of the glamorous fall items that we're looking forward to wearing well into winter.
Need to update  your wardrobe for the upcoming season?  No worries, we've got you totally covered.  Below, we hand-picked 5 fabulously fall items that you can add to your wardrobe now.
THE LINKS
Textured, Chunky Sweater – MAJE Aero laddered chunky-knit sweater
……………………………………………………………………………………………………………………………
A Dark, Dramatic Rouge Lip – Deborah Lippmann Let's Do It Lipstick
……………………………………………………………………………………………………………………………
Fancy Footwork Ankle Bootie – Isabel Marant Tacy Suede, Printed Calf Hair And Leather Boots
……………………………………………………………………………………………………………………………
Big, Bold Neck Candy – Vince Camuto Factory Girl Fringe Necklace
……………………………………………………………………………………………………………………………
A Fab, Faux Fur Jacket – Unreal Fur Fire And Ice Faux Fur Jacket