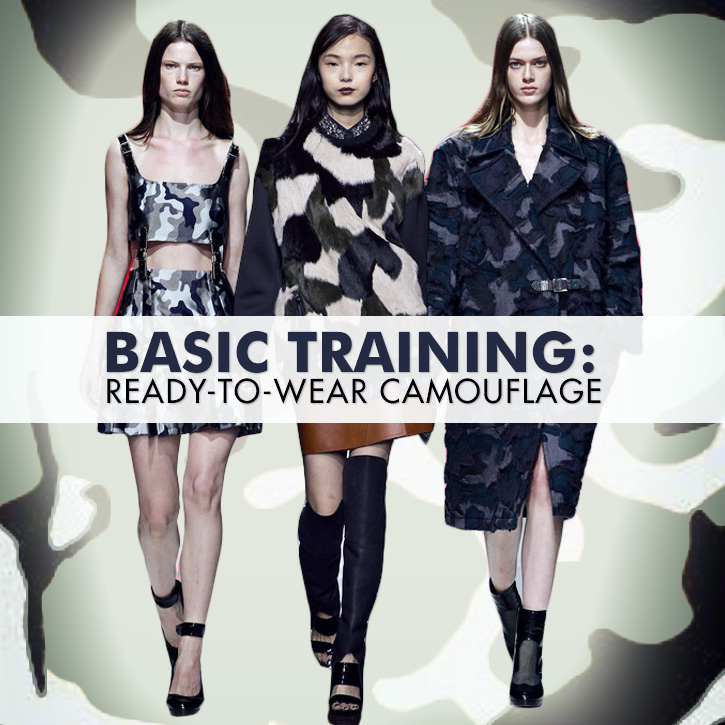 It seems like every fall, year after year, military inspired clothing finds its way back into trending collections.
2012 was the year for military styled capes and blazers, while 2011 was more about boxy, utilitarian silhouettes, and ornamental details like epaulets and brass buttons on double-breasted jackets often seen worn by marching bands.
And while fall is trending towards military themed looks, the revival has taken on a new concept, namely military prints.
Camouflage, despite its incognito purpose, is making bold appearances on the looks of fashion tastemakers like Elle Fanning,  model of the moment Cara Delevingne and print mixing master Jenna Lyons.
But before the print made its way to the sidewalks, it was first on the February runways during Fashion Week.
3.1 Phillip Lim showed the military print on furry jumpers and jackets, and Christopher Kane  presented  a fall 2013 collection that embraced the print in almost every look, from harness dresses to camouflage trenches.  Gwen Stefani's L.A.M.B. also ventured into militarily territory with army green camouflage prints  infused with pops of bright red.
Not sure if you can pull off camouflage? Think again.
The key to wearing the abstract print is to wear only one camo print in your look, otherwise you'll run the risk of looking like Goldie Hawn's "Private Benjamin," and not in the cute Goldie Hawn kinda way.
You can mix camouflage up with other prints, but be sure that your print proportions work (we use the big print/small print rule).  You can also try something unexpected, like wearing the print with sequins or with bright pops of neon.
Whatever the case may be, we've picked out 12 killer items that will have you surrendering to cool, on trend camouflage prints.
[justified_image_grid link="file" disable_cropping=yes ids="55500,55494,55499,55498,55497,55491,55489,55496,55495,55493,55492,55490″ row_height=200] [hr]