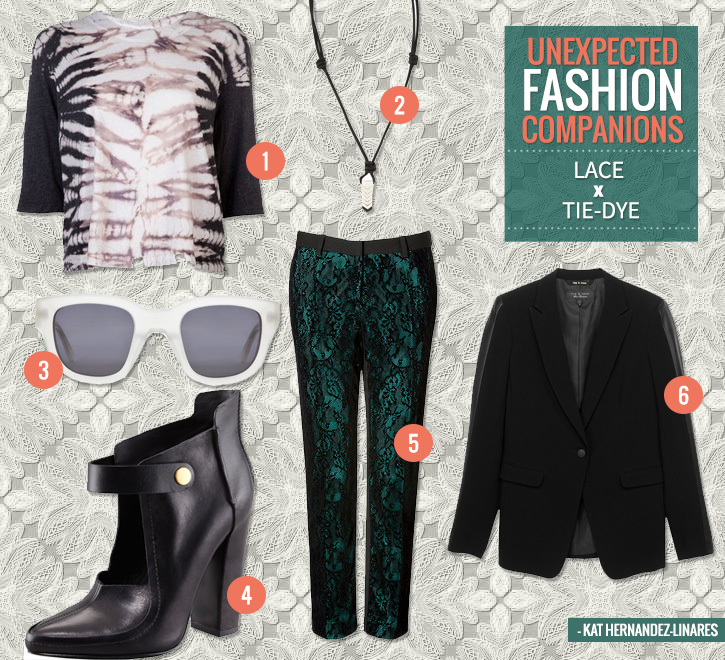 Lace detailing has been a hit on the spring runways and we love that the delicate fabric has made it's way into everything from gorgeous gowns to unexpected pieces like trousers and clutches.
If you're looking for a way to freshen up this frilly trend, why not try pairing lace motifs with tie-dye prints?
Yes, we know this may seem like an odd combination, but trust us, when done right, the resulting look is totally cool.
Why this works: Our outfit is made up of muted tones so the two bold elements of lace and tie-dye aren't an eyesore.  We have also chosen a modern take on tie-dye. This is not your traditional hippie dippy colorful print. Raquel Allegra's Tie-Dye Tee is a perfect update on the psychedelic print. We've paired it with Vanessa Bruno's Emerald Lace Pants for a winning look that is totally chic.  Rag and Bone's Racer Blazer adds a masculine touch to this decidedly feminine outfit. If you're looking for something a bit tougher, a cropped motorcycle jacket will work just as well.
Sleek accessories are the perfect way to top off this look. Alexander Wang's Kamila Booties add another dose of edge along with Acne's Double Clear Sunglasses. Tateossian's Dagger Pendant Necklace is the perfect minimal accent to compliment your modern and feminine look.
THE LINKS
Tags:
Unexpected Fashion Companions