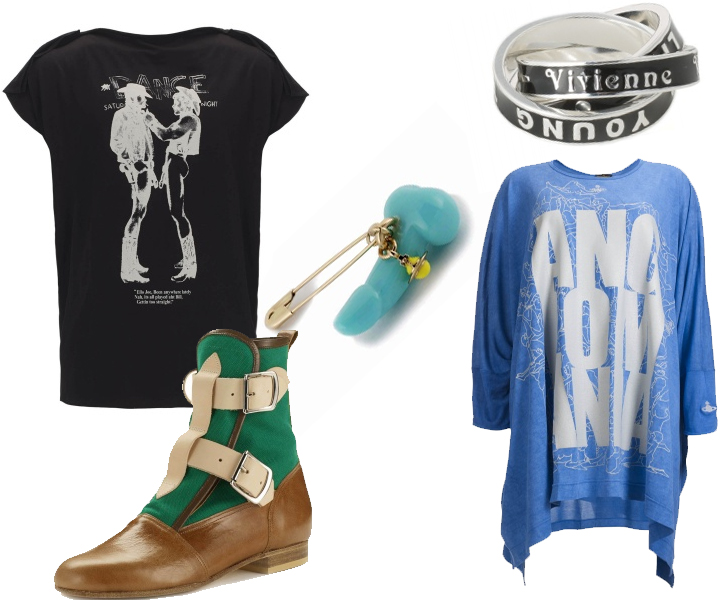 In a true punk tribute, Vivienne Westwood is releasing a collection that features some of her punk designs made popular at the beginning of the mid '70s punk movement.
Although it's been debatable as to how punk (or "un-fun" ) the Met's "PUNK: Chaos to Couture" exhibit really was, one thing is for certain, the part of the exhibit which featured Vivienne Westwood's "430 King's Road Period Room" was as authentic as it gets.
Starting her SEX boutique in 1974 with Sex Pistols' Manager Malcolm Mclaren, punk rockers flocked to the 430 King's Road shop in London to score the latest bondage gear, as well as clothing designed by the duo. Having styled punk bands like the Sex Pistols and The New York Dolls, Westwood and Mclaren were at the forefront of the DIY punk fashion movement.
Westwood's aptly named Chaos collection includes a range of plaid and splatter-dyed separates as well as Westwood's more popular and controversial t-shirts, such as the "Longhorns – Dance" illustration by artist Jim French, which features two naked cowboys facing each other and bearing their genitals, and McLaren's  famous "tits" tee.
The Chaos collection also features jewelry and accessories from Westwood's archives, like the penis pin, which was originally created for the Anglomania Autumn/Winter 1993-94 Catwalk Show.
You can view Vivienne Westwood's Chaos collection in its entirety here