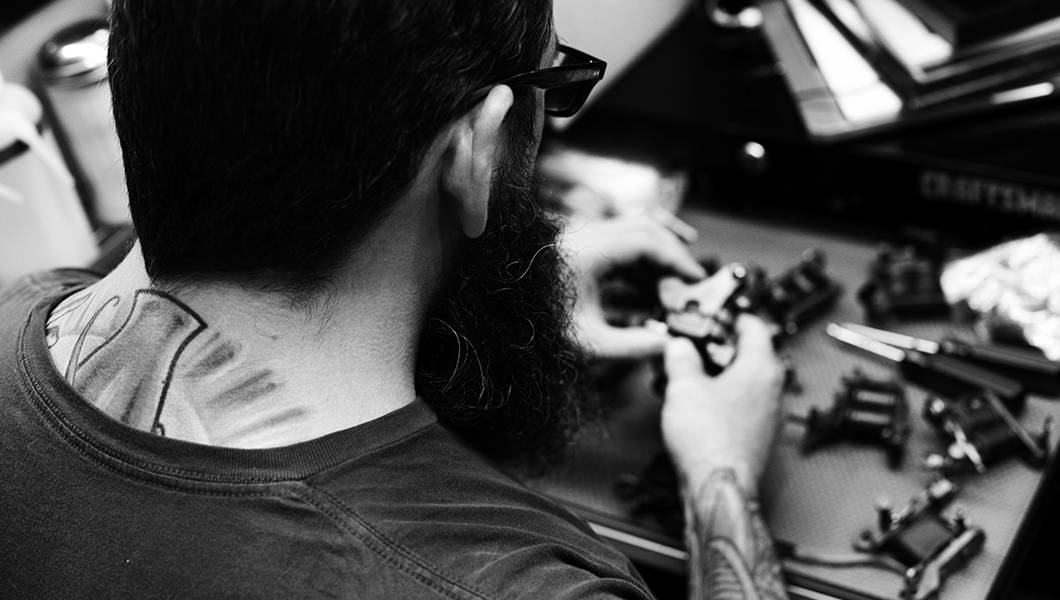 Three quarters of the way through 2013, it's a year that might best be described as two steps forward, one (large) step back. The Supreme Court decided that the Defense of Marriage Act was unconstitutional, but simultaneously revoked the Voting Rights Act of 1965.
Senator Wendy Davis filibustered a Texas bill that would ban all abortions after 20 weeks and create new requirements that would potentially close 37 of the 42 clinics in the Lonestar state. Only to have Rick Perry pass the bill two weeks later in a special state senate session.
But it's 2013, lesbian and gay couples can walk down many (not all) streets in America holding hands and be left alone or altogether unnoticed. (White) women are paid almost the same wages as their male counterparts (77 cents to the dollar), and there are more than five reality television shows airing this week on cable about tattoos.
One might say we've come a long way, if nowhere else than in the realm of self-expression.
In fact, according to Harris Interactive, one in five adults (that's 21% of the population) have at least one tattoo. Yet in the last six months, several lawmakers throughout the country have attempted to change those numbers.
Earlier this month, the Washington DC health department proposed a 66-page amendment to adopt new body art regulations for the District. Among the regulations is a mandatory 24-hour waiting period before getting a tattoo or a piercing within the city's limit.
According to Najma Roberts, communications director for the DC Department of Health, the District's body art industry hasn't been regulated in the past (until a year ago). "It's our job to regulate public health facilities," Roberts told Meets Obsession. "A tattoo is a long-term decision – this waiting period gives the client time to research both the artist and the shop."
"You hear about people making rash decisions after a late night of too much alcohol," Roberts continues "Stopping those decisions is part of the school of thought behind the proposal."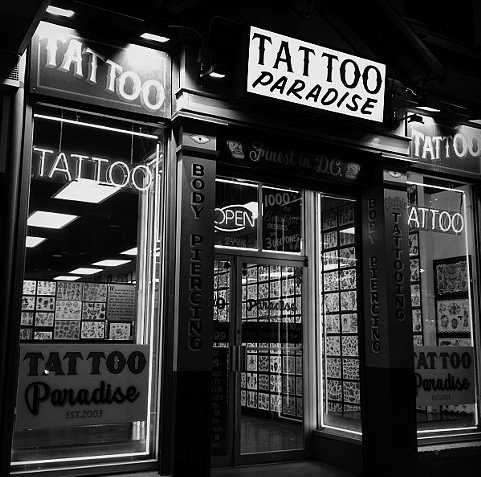 Nick Barkley, manager of the Adams Morgan shop, Tattoo Paradise, sees things a bit differently. "It's unnecessary," he told Meets Obsession.
They're not saving anybody from anything. If the government wants a 24-hour waiting period so people don't regret things then they should impose the same waiting period after taking three shots at the bar, or keeping McDonalds open after midnight.
But according to the numbers, 86 percent of the tattoo population has never regretted their decision to get tattooed (Harris Interactive).
And while half the non-tattooed-population believe that those with body art are more rebellious, or as this Washington Post commenter put it, " Tats [sic] to me spell attitude so I would venture to say one with tats is not equally qualified" in regards to jobs, that's not so often the case these days.
In February, Forbes Magazine concluded that tattoos are becoming more commonplace in professional environments. "With many contemporary companies stressing commitments to diversity and inclusion, tattoos are becoming increasingly unproblematic across the board," including corporate, medical and educational fields.
So is a law of this kind necessary? The fact that it's been proposed has raised a lot of questions – and for some people it ignites fear. If the government can decide when the public can get tattooed and pierced – what's next?
"The people writing these regulations don't know what they're doing or talking about," says Barkley. "They're just throwing everything up and seeing what sticks."
As one of the more popular tattoo and piercing shops in the DMV, nearly 50 percent of Tattoo Paradise's clients are walk-ins. A statistic that Barkley says will change dramatically if the required waiting period passes.
Many of those walk-ins won't wait 24 hours because they can just go to a shop in Virginia or Maryland to get their tattoo.
But what might be more worrisome is that buried within the 66 pages – roughly 15 of which mandate that tattoo shops must have bathrooms, running water, proper lighting, and a roof –is section 303.2. On page 19, shoved between required single-use and sterilized equipment it says that if an artist has reason to believe that a customer has "a communicable disease, skin diseases or other conditions posing public health concerns" the artist must deny or cease service and "recommend the customer be examined by a licensed health care provider."



"To deny a customer service for certain diseases (including HIV, Hepatitis B, and AIDS) – its discrimination," says Barkley. "This is where you know they don't know what they're talking about. Most tattoo shops – we already go above and beyond these regulations, and if we abide by all of them there isn't a risk of spreading HIV. There's no reason for section 303.2 to exist."
DC is not the first place to try and regulate or even limit what adults can and cannot do to their bodies. In fact, according to the Washington Post, the DC propositions are based on laws that currently exist in two Wisconsin cities.
Further south, the state of Arkansas went through it's own legal body modification battle this past March, when state lawmakers decided to sit down and update Arkansas' body art legislation. A tongue splitting performed in state by a visiting piercer was the catalyst for their proposed regulations on the industry.
"The Health Department went crazy," Joe Phillips, owner of Psycho Ink in Conway, AR, and founder of the Arkansas Body Modification Association told Meets Obsession. "They wanted to ban scarification (specifically cutting) and subdermal implants (a cosmetic plastic surgery that places body jewelry beneath the skin that creates a raised design) throughout the state. But they weren't very educated about this type of stuff."
State senator, Missy Irvin, who was one of the two sponsors of bill SB 387, went as far as to compare "scarification to genital mutilation in Africa," explains Phillips.
Enter the creation of the Arkansas Body Modification Association.
"I sent out a letter to every artist and shop in the state," approximately 300 artists. "I wanted to make it clear that lawmakers had set their sights on us and if we didn't ban together and speak up then we weren't going to have any say in the process," says Phillips. "The people who really cared came out, and together we formed the ABMA. From there we sat down with the state health department."
Working together lawmakers and artists came to a reasonable compromise. Because currently there isn't a market for – or an artist performing – subdermal implants in the state, Phillips says they agreed to prohibit state licensed artists from inserting this specific type of implant. Phillips also explains that this has been misconstrued in the news – dermal implants (more like a "one-way" piercing that places an anchor beneath a layer of skin and attaches to jewelry above the skin) is still legal and now regulated throughout Arkansas.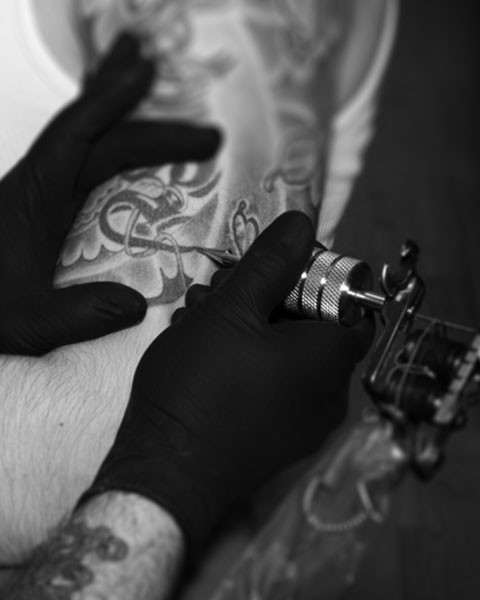 Additionally, the ABMA convinced Irvin to take scarification off the banned list. In fact, piercing and scarification artist, Misty Forsberg, told MSNBC that the "legislators showed an interest in learning about scarification and are moving to properly regulate it instead of ban it. Arkansas could become the first state to license it."
Once scarification was taken out of the conversation, the ABMA was generally happy with the regulations. "To that end, it's a public health issue," sums up Phillips. "Now, in the state of Arkansas, you must be licensed to own any tattoo equipment. This whole process renewed my faith in the system. Missy Irvin listened to our requests and did right by us."
"We are currently reviewing the rules and regulations from the acts that passed in May," Missy Irvin told Meets Obsession via email. "I carried this legislation for the Arkansas Body Modification Association and other tattoo artists in my state.  The changes were significant as they were working hard to protect their industry, their clients and the citizens of our state." And while Irvin admits to only having her ears pierced she did say that it was an "honor to work with these artists and small business owners on this important legislation."
So what can DC learn from all this? Phillips suggests that local artists should reach out to one another. "Find ten people to sit down in every public meeting on the topic and make a stand."
As for the 66 pages of legislation looming over the District – it's not an all-or-none deal. What starts with the committee proposing regulations to the health council, is followed by an open commenting period of 30 days, public meetings, and then finally the vote goes to council. "Based on everything reported in that time frame, council can pass all 66 pages or as few as five or ten," explains Roberts.
Roberts also notes that – hypothetically – even if the entire proposal passes, there will be a waiting period of six to twelve months before the regulations are put in place. "We allow for businesses to get up to speed. It wont happen overnight."
In the end, Barkley believes it's all about money. "There's cash in regulating industries," he explains.
"Artists have to pay for a license, the city has to pay an employee to come and regulate the shop, and guest artists will have to pay to get a license to work in DC. Even our supplies will need to come from sources approved by the mayor. I just think there's a lot of people who aren't aware of what all the regulations are."
Similarly to Phillips, Barkley asks that DC locals pay attention to what's being proposed, to follow up on social media sites, and for those against the waiting period (or the ban on tattooing anyone with a communicable disease) make their opinion known via the open commenting or through their Change.org petition.