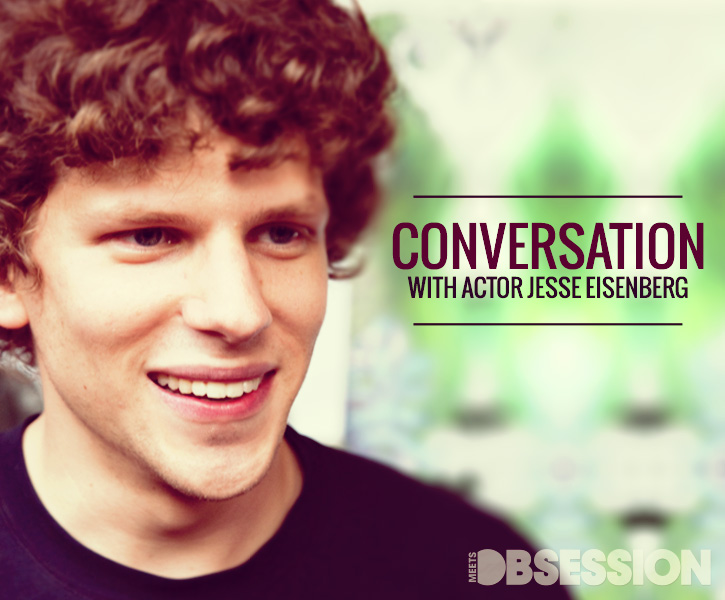 Making his small-screen debut in the 2001 made-for-tv film, "Lightning: Fire from the Sky," actor Jesse Eisenberg has carved a career for himself that exceeds way beyond television.
Starring in popular films such as "Adventureland," opposite of Kristen Stewart, "The Education of Charlie Banks" and the comedic horror movie, "Zombieland," it was when Eisenberg played Facebook's Mark Zuckerberg that critics started to take notice of his acting chops.  Not only was the role a game-changer for his career, but it also earned him an Oscar nomination for the Best Actor in a Leading Role category in 2011.
With a rich filmography filled with characters that range from an earnest college student to a neurotic sociopath, Jessie Eisenberg is a rising star.
Meets Obsession recently got a chance to chat with Jesse, who is starring in the summer hit  "Now You See Me," a film about a group of magicians who plan a series of robberies. We discussed magic, his acting career and the cool tricks he learned while filming his latest movie.
MO: Tell us about your character and getting the opportunity to play a magician in a movie.
Jesse: The movie makes magic look cool. I think people will see the movie and think it makes magic look cool. When I first read the script, I wanted to play my character more like David Blaine… because I thought, since my character is a street magician, 'oh a David Blain kind of thing that's a very casual dress, regular guy thing.' But the director wanted a more flashy style, so I guess the whole aesthetic was kind of a "magicians of the future" type thing, where the tricks they're doing could be done maybe in five years… like it's not possible now, but it might be possible in the future.
MO: Do you think this movie shines a good light on the world of magic?
Jesse: I think it's good for the world of magic. I know the magicians who worked on the movie are really excited about it and excited that it will portray them in a way that looks good.
MO: Did you learn any tricks while filming?
Jesse: I mean, I play a character who is the best sleight of hand magician, so he would've been practicing for like 25 years and I didn't really have that much time (laughs). But I learned some basic sleight of hand tricks, like a staff change, where you hold a card up and you flip your hand… so I could do that well since I had to practice it for months.
MO: You're playing a character that's more confident and sure of himself than other character's you've played, how were you able to tap into that kind of cool guy role?
Jesse: Well, they sent me the script while I was working on a play in New York, and I had a lot of stage fright from performing each night, and when I read the script, I thought 'this character feels more comfortable onstage than anywhere else.'
I thought this would be a good way to challenge myself to play a certain type of character that might be therapeutic in a way because it would make me feel more confident onstage and in my personal life, and it actually worked.
Like, while we were filming, I was feeling really good about myself and had a little four month break from my own dumb neurosis so it was like a really fun experience. When I take on a role, I find it pretty easy to get into the role, and once I'm there, I just deal with any little challenges along the way.
MO: Is it a conscious decision to play characters that differ from one another each time?
Jesse: I think it's less conscious then it seems in retrospect. At the time, I just sort through what they send me and if I like it then I'll do it. I rarely think, 'well I did something like that last year.'  There was a period of time where I wasn't getting stuff that I wanted to do so I just started writing plays and performing them in New York to deal with my frustration with my career. Now I get a variety of things, so it's better.
I don't really know how people think of me, but I like working in different environments with people who treat the work with respect and are serious about making it.
If you could do 1 magic trick what would it be?
Jesse: I really got into sleight-of-hand stuff. After the movie ended I had to do something else so I never really got a chance to improve on doing that kind of thing. I still have the muscle memory of it but it would take years to really master it.
Tags:
Conversations
,
Jesse Eisenberg
,
Now You See Me