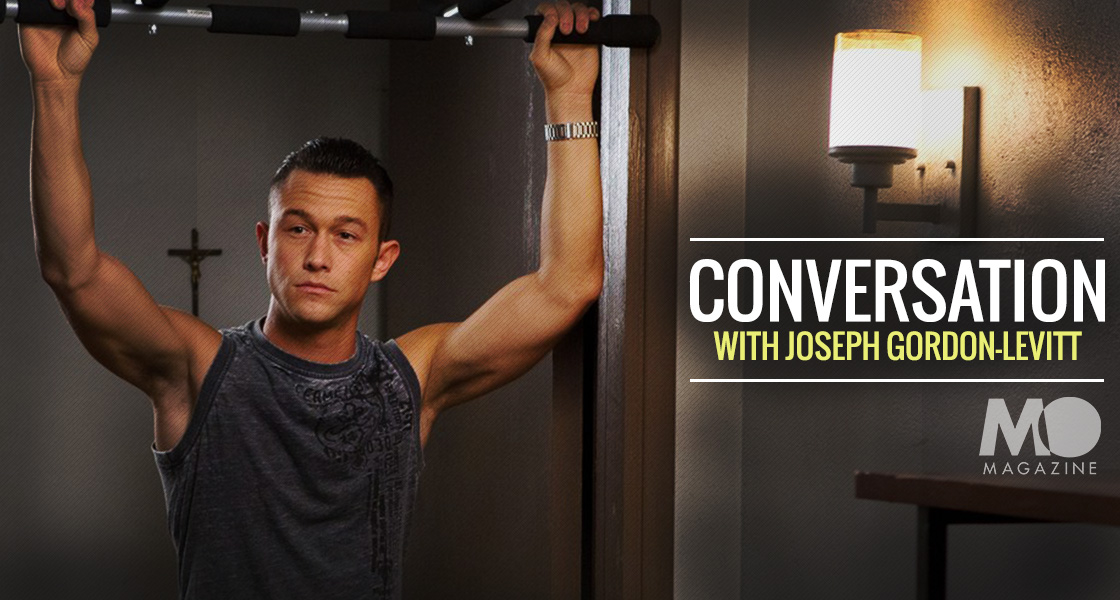 [dropcap]I[/dropcap] met with Joseph Gordon-Levitt in a hotel room at the Georgetown Ritz-Carlton where I found him fresh-faced, freshly dressed in a check shirt and slim cut black jeans, and he looked just like the boyish, slender "JGL" we all love and adore.
It was a familiar aesthetic, though one quite different from his character in "Don Jon" with the biceps, the over-gelled crew cut, and fleur-de-lis graphic tees.
I didn't expect him to keep up with his Jersey boy porn addict look, but I was curious if there would be any remaining vestiges. A thickness around the neck, perhaps–but found instead what I had always heard of him to be: a warm and articulate guy who also happens to also be a charismatic young star with a deeply creative streak.
As I write this, a collection of short stories published by Gordon-Levitt's HitRecord production company sits on my bedside table.
As other eager journalists counted down the minutes until their turn with him, behind the hotel room doors, we jumped right into the conversation about the why and how of "Don Jon," a hilarious and surprisingly tender film written and directed by Gordon-Levitt  in which he stars alongside Scarlett Johansson and Julianne Moore.
I found out what's thrilled him the most about "Don Jon," who has the best weed in Hollywood, and his favorite place in DC.
"Don Jon" stars Gordon-Levitt as the titular lead, so aptly named because of his nightly sexual conquests out at the club. He is eventually tagged and tranquilized by Jersey beauty, Johansson's Barbara Sugarman, but despite their romance, he remains addicted to pornography.
The night before, Gordon-Levitt spoke to an audience at a "Don Jon" screening at the Georgetown AMC Loews. And when I asked him how it went, he launched happily into explaining all the fun he's had while on his press tour from the film, "It's been really fun and satisfying for me to watch the movie with people. It's nice to see the audience is having fun. I had to find a balance through the writing process, of being selfish and doing what I wanted to do with the film, and also making it to be enjoyable for others."
It turns out that the aforementioned writing process began for Don Jon as early as 2008 on slips of paper.

[pullquote align="right"]"My earliest notes are dated 2008. I would jot things down here and there. There were various versions in my head throughout the years that evolved with time."[/pullquote]
At that point Gordon-Levitt had been idealizing the film as a drama and had not yet settled on the characters.
In response to the media drawing a parallel from "Don Jon" to reality stars like the "Jersey Shore's" The Situation and other related douchebaggery, Gordon-Levitt opposes any comparisons. "No way, he is not a Jersey Shore guy. Don't those kids drive around in stretch hummers and limos? I see Don Jon to be working class, normal, that's why I wanted it in Jersey. I grew up a normal suburban kid. I wanted him to be a normal suburban guy. It's more like a 'Rocky' or 'Saturday Night Fever' thing."
So the years went on and the notes piled up, but it turns out a little skunky green and a night with Seth Rogen is when Gordon-Levitt realized 'Don Jon' was a comedy.
"I remember it super clearly, the exact night. It was 2010 and I was shooting 50/50 with Seth Rogen. He had just handed me a huge jar of this incredible Vancouver weed and we smoked out. Seth always has the best weed."
Good to know, JGL.
"And as we were hanging out, I realized 'Don Jon' should be done as a comedy. Not in an obvious way, but in a 'Hey, I know that guy,' realistic way. I wanted to spotlight the problems of a guy who watches too much porn and a girl who's bought too heavily into the romantic Hollywood movie."
Continuing, Gordon-Levitt explains, "I think that same night, I came up with Scarlett's character and knew then I wanted her to play Barbara Sugarman. And Scarlett just did such a good job and I think really understood the character. Being objectified for being beautiful but not being seen for all the other quality reasons one should be seen [for]. I just knew she would be perfect in the role, and she was. She was very funny. Like when she was on SNL."
And I took the bait. Of course I did and let JGL know I loved his SNL opener a la Magic Mike. He laughed heartily, "Thanks, I appreciate it!"
Back to the casting of "Don Jon," it wasn't just Johansson whom he had envisioned in the movie, but he also was hopeful that Moore would take the role he had wrote with her in mind as Esther, an older woman who befriends him in night school and offers him a different perspective on sex and porn.

[pullquote]"I was surprised, honestly. Julianne agreed to do the film and liked the script. I've admired her in so many roles. I was so happy. She's so good and she brings such genuine feeling to every role."[/pullquote]
It's been a long ride for Gordon-Levitt, taking into account all the years those slips of paper turned into a film. And it's not quite done yet, as he continues his press tour for the next couple of weeks before the film's September 27 nationwide release.
But as he laughed and smiled through our talk, I wanted to know what his favorite part of the whole process was, especially having had a behind the scenes role this time.
"I had always been curious about the production when I was just acting. How they mixed the music, what the directors were doing and all that. But when I really knew I wanted to make 'Don Jon' happen I started paying attention to the directors I was working with and what they were doing. Spielberg when I was working on Lincoln, Chris Nolan when I was working on the Dark Knight. It was great to learn about all of that. I do miss those nights [when] I would just get lost in the writing of the screenplay… I loved that creative part of writing."
As his handlers came in to remind us of the time, I asked JGL his favorite place to go in DC and surprisingly or maybe not so surprisingly, he had walked through our city for hours with a cousin of his who lives in the District, and he was most moved by the Lincoln monument.
And that's exactly what we love about JGL, even amidst all the raging vulgarity and hilarity, he's also got enough sweet. [hr]
---

Sinta Jimenez is currently obsessed with Opening Ceremony collaborations, Band of Outsiders, warabi mochi from Temari Cafe, meteor showers, and finding a Jeff Buckley soul with a Jason Segel sense of humor.
All author posts