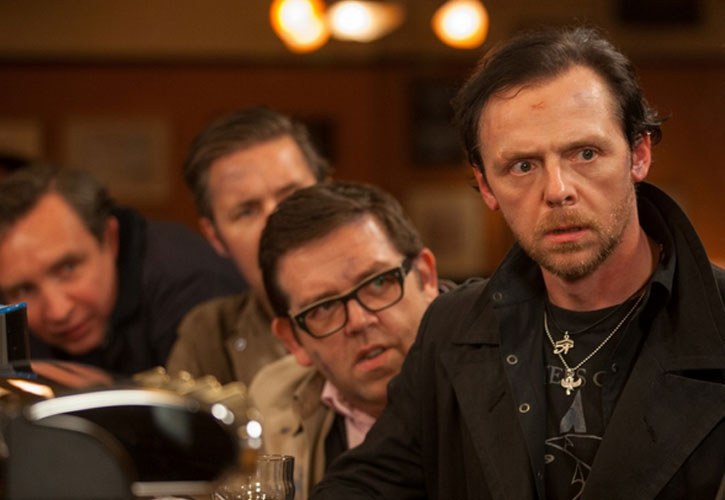 The Who:
Simon Pegg, Nick Frost, Martin Freeman, Paddy Considine, Eddie Marsan and Rosamund Pike in a film by Edgar Wright.
The What:
The third entry of The Cornetto Trilogy, "The World's End" brings back the team of Pegg, Frost and Wright for a film about a group of men reuniting for an epic pub-crawl they failed at 20 years earlier. The quest finds them dealing with the issues of the lives they've lead so far while slowly discovering that their childhood hometown has been taken over by supernatural forces.
The Big Deal
What makes the films of The Cornetto Trilogy so special is the way they take movie conventions and transform them into tales of friendship and childhood zeal. They mine humor and irreverence out of popular nerd obsessions like zombies, sci-fi, and bad action films. And this movie is no different.
"The World's End" zips by finding humor everywhere and never stops being fun, exciting, or interesting.
It's not content to simply be a sci-fi film about alien invaders; but rather, it's a film about nostalgia and the dangers of getting so caught up in the past that you lose yourself.
Both Pegg and Wright know enough about the genres they lampoon to completely stretch it out, fill it with very funny material and still make it genuinely thrilling and eerie. It's the ultimate ride and one can only hope that these guys get back and make more movies together again.
Grade: A-
[hr]
The World's End opens today in theaters everywhere.

Tickets & Showtimes | Movie Trailer | Official Website
[hr]
---
Israel Daramola is a writer, video editor and cake enthusiast living in Washington, D.C. You can follow him on twitter or you can go to your mirror, turn off the lights and chant his name three times and he will appear.
All author posts