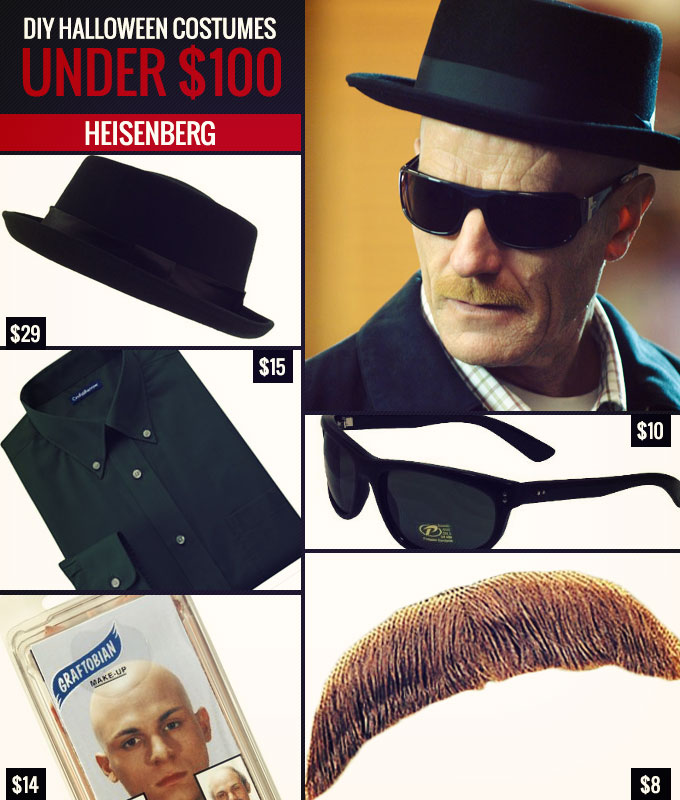 Give this meth-merizing show a final send off this Halloween by dressing up like the king of all chemistry-teacher drug lords, Walter White.
It's pretty simple to channel Walt as his Heisenberg alter ego: You'll need a pork pie hat, a bald cap (if you have hair), a dark pair of shades, a mustache, as well as a dark brown jacket, a green or burgundy shirt, and a pair of dark pants and shoes.
Happy Halloween, Bitches!
SHOPPING LIST
Porkpie hat: Men's Winter 100% Wool Boater Porkpie Derby Satin Ribbon Band Hat Black S/M 56cm
Bald Cap: Bald Cap

Mustache: Rubie's Costume Co. Character Mustache
Sunglasses: Dirty Harry Black Sunglasses 

Shirt: Croft & barrow ® classic-fit solid broadcloth point-collar dress shirt – men
AT HOME LIST
Over-sized jacket, dark pair of pants and your most orthopedic looking, boxy brown shoe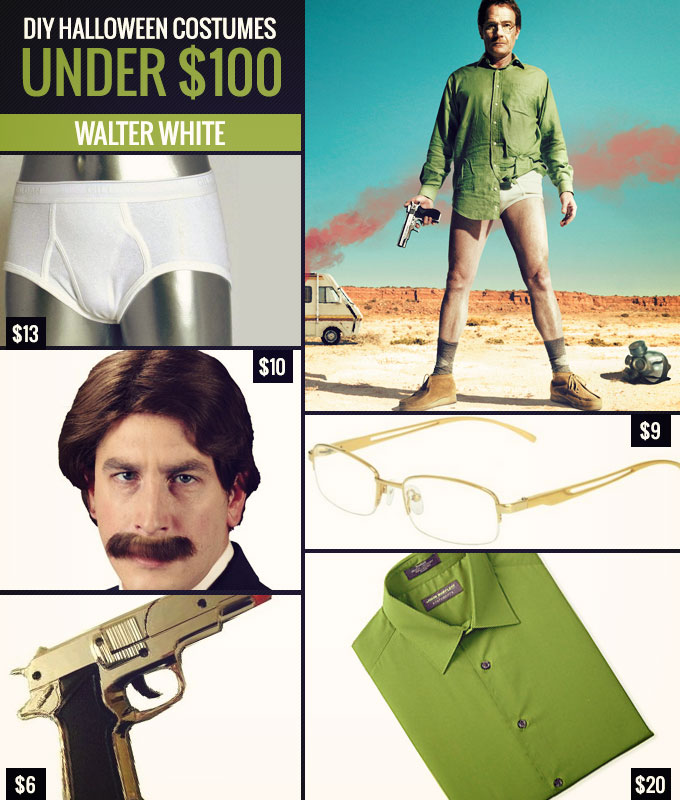 You can also embrace the earlier days of Mr. White's existence and dress as the man before he became an all-consumed kingpin. For that, you'll need a full head of hair, round-framed glasses, a moustache, a green shirt, a prominent pair of tighty whities (if you dare), a pair of grey socks and brown loafers with laces. Bring along a fake gun if you want to really recreate that now-famous image of Mr. White in the desert.
SHOPPING LIST
Glasses: Halfrim Rx Ready Eye Glasses Frame 
Wig & Mustache Set:  70's Man Wig & Mustache for Halloween Costume 
Tighty Whities:  GILDAN 100% Cotton Mens Brief
Shirt:  John Bartlett Statements Men's Long Sleeve Broadcloth Dress Shirt
Gun: Toy Cap Gun: Super Cap Police Detective Style 45 Pistol (Silver Plastic) 
AT HOME LIST
Grey argyle socks and your most orthopedic looking, boxy brown shoe
Tags:
costumes
,
DIY Halloween Costumes Under $100
,
Halloween
,
Halloween DIY