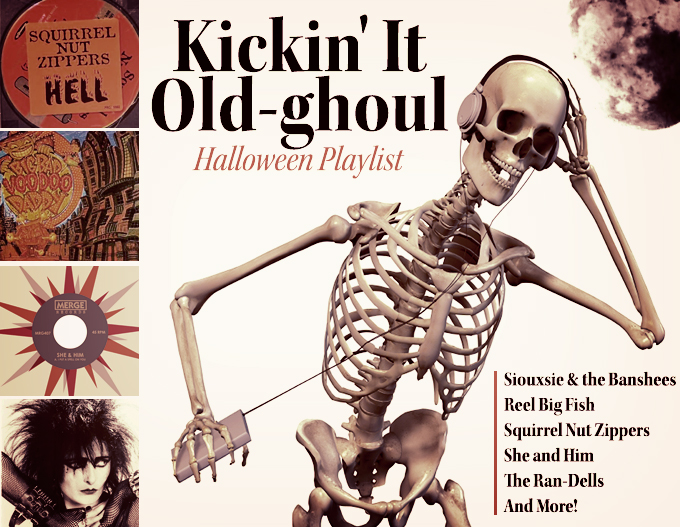 Halloween is a time to celebrate all things dead and gone. Zombies and ghosts finally have their time to shine and all the dark and scary things can come out from your closet, including that ugly sweater you bought months ago for your cat-lady costume.
And just like  your questionable costume, we went way, way back to dig up some long-dead spooky tunes to get you in the undead kind of mood.
Here are a few  vintage-sounding songs that are best when paired with candy corn, hard apple-cider and your favorite Hitchcock film.
Halloween – Siouxsie & the Banshees
Released in 1981—this English post-punk group wrote a song that perfectly embodies the chaotic, exciting and spooky energy that fills the air this time of year.

Skatanic – Reel Big Fish
The song is upbeat with scary pseudo- scream vocals to make it the ultimate song to pick up the energy of your Halloween party.

Hell – Squirrel Nut Zippers
These modern swingers released this track in 1996—but it has the energy and style of a much older piece. The old-time jazzy feeling brings up memories of the boogie man from "The Nightmare Before Christmas," making it an automatic Halloween necessity.

Superstition – Big Fat Cats
The Big Fat Cats's take on the Stevie Wonder classic with their own twist is a Halloween must. By creating a duet between a female and male vocalists and adding their own jazzy-twist on the classic, they create a cover that is anything but scary.

Black and gold- Sam Sparro
Although this song is technically a dance-pop hit, it has always felt like a vintage number. Perhaps it's something about the melody and the smooth vocals that seem to creep up on you, or maybe it's just the repeated references to night-time, but this song always makes it to our Halloween playlist.

I Put a Spell on You – She and Him
Zooey Deschanel's haunting take of a traditionally hooky, overplayed track turns it into something mysterious and fresh—and just obscure enough to land itself a spot on our vintage-Halloween playlist.

Helter Skelter- The Beatles
What is it about this song that is so creepy? Oh yeah, it's probably because Charles Manson later adopted the phrase "Helter Skelter" as a mantra for his family/cult to justify murder.

Spooky Madness – Big Bad Voodoo Daddy
Big Bad Voodoo Daddy produced a vintage, New Orleans-style swing tune that will make you want to grab the nearest ghoul and cut a rug.
http://www.youtube.com/watch?v=8W2O1WzwhNU


Martian Hop – The Ran-Dells
The 1969 hit embodies the essence of everything there is to love about Halloween—it's silly, fun and just a little weird. The songs tells a goofy story about aliens coming to Earth, all sung to a sock-hop style beat. Although it's less well-known that than monster mash, it has the same lovable feeling and is sure to get you in the true spirit of Halloween.
http://www.youtube.com/watch?v=XRqg3M4ZJg8


---
Maggie is a writer based in Long Island, New York. She is heading into her second year at Hofstra University studying Journalism. If there is any time to spare in her hectic schedule of compulsively listening to, reading about, and watching music videos of the Vaccines, Maggie enjoys spending time on air at WRHU Radio Hofstra University, blog-hopping and binge watching 'Dawson's Creek' with her fish Tina Fillet.
Maggie is currently obsessed with the Vaccines, Lorde and watching vintage episodes of 'SNL' on DVD.
All author posts