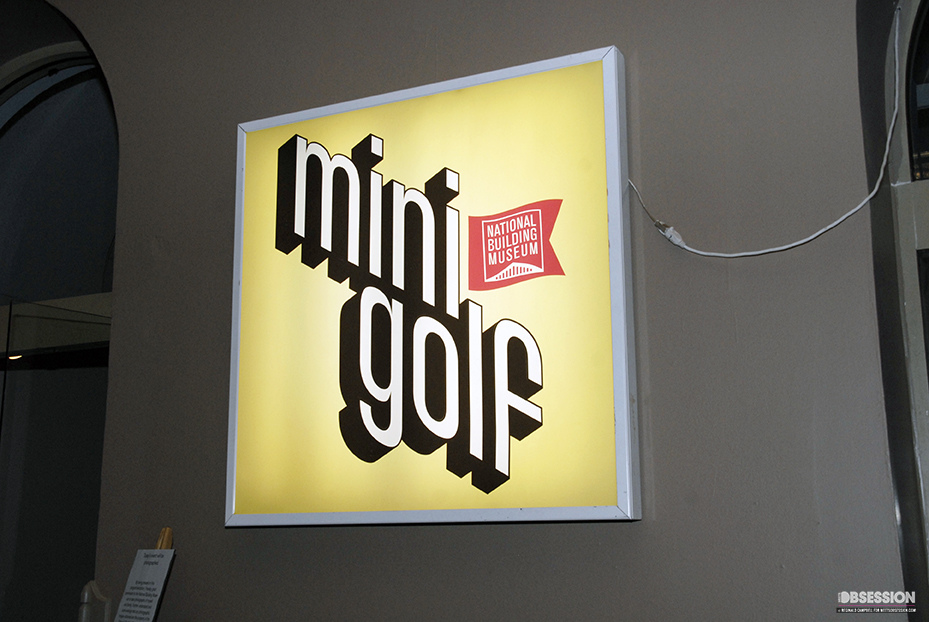 If you combined incredible architecture and mini-golf, you'd get something like the National Building Museum's indoor mini golf exhibition.
As part of the "Building the Future" mini golf exhibit, the museum invited firms, as well as contractors, to come up with innovative design ideas that represented the future of architecture and landscape design. The result of the design challenge is a colorful, well-designed, imaginative indoor play land full of dramatic twists and turns and shapes and structures.
Open from Memorial Day to Labor Day, the exhibition features two nine-hole courses that are designed for ages 4 and up.
Last week, the museum held a press event that featured live entertainment as well as the opportunity to play mini-golf on the designed building and landscape structures.  We had a blast, and the fact that we got our mini-golf game on indoors, with air condition, was the icing on the cake.
With an affordable $5 per-person playing fee, the indoor course is  great for kids and design enthusiasts alike.   To check out the "Building the Future" exhibit hours,  please click here.
Photography by  Reginald Campbell for Meets Obsession magazine
[justified_image_grid flickr_user=95100483@N08 flickr_photoset=72157634051656936]