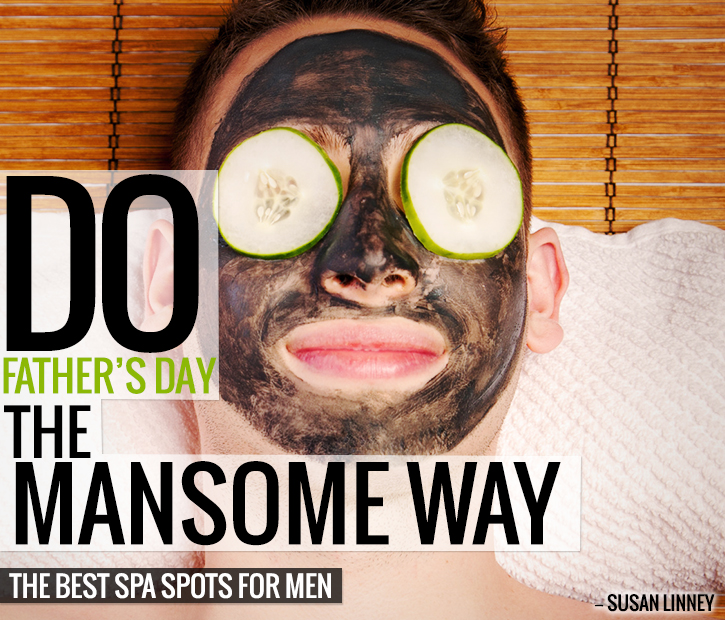 Last year, we suggested treating dad to an old-fashioned shave for Father's Day. This year, we're taking it a step further, offering up some marvelous, manly spa treatments for those fathers who aren't afraid to get "Mansome" (Jason Bateman and Will Arnett were brave enough, after all). And really, what guy wouldn't want a luxurious hot shave or a cooling, age-defying facial? So check out the following MO approved spas, all of which offer fantastic father-friendly services on their menu.[hr]
Various locations across the country Send Dad off to The Art of Shaving's old school Barber Spa, where he can select from a nice array of traditional, relaxing grooming services, all performed by master barbers. My husband loves The Royal Shave, which includes a pre-shave oil, an after-shave mask, and after-shave balm. He always comes back smiling and satisfied (and looking tremendously handsome, of course).[hr]
315 W 57th St., NYC, (212) 245.6557 This Manhattan getaway offers some of the best products and treatments from around the world. So if you want to give Dad a relaxing, European spa experience, Faina has a great menu of services just for men. Whether pop opts for a simple Grooming Facial, a Collagen O2 Eye Treatment, or an Oxygen Steamless Facial, there's plenty here for a fab Father's Day spa excursion.[hr]
Various locations around the country Bliss Spa is a beloved haven for so many women (really, treat yourself to a service if you've never been. It's just all that and more). And the men's menu is full of soothing, calming, and even "manly" services, so if the words "spa day" initially turns Dad off, book him an "Extreme Sports Massage." When it comes to spa treatments, it doesn't get more macho than that.[hr]
127 East 56th Street, NYC, 212-751-6051 Metamorphosis has created a sweet, special menu just for Father's Day. The Revitalizing Foot Treatment might be just the thing to put the spring back in Dad's overworked steps, or perhaps he'd like to have his head pampered with a Cooling Peppermint Scalp Refresher massage. There's also a Deep Muscle Soother hot stone massage, which I doubt would be a hard sell for any guy.[hr]
100 East 50th Street, NYC, 212-872-7200 If dad likes fancy-schmancy fare, booking him a treatment (and maybe even a room?) at a five-star New York City hotel is just the thing. The Waldorf Astoria in NYC certainly fits the bill, and its Guerlain Spa is every bit as classy, comfortable, and upscale as the luxe hotel in which it's located. The spa has a special menu for men, which offers everything from deep tissue and scalp massages to an "As You Wish" treatment, in which your masseuse helps to create a personalized treatment for your lucky man (ladies, I'd go for that one).[hr]
Various locations across the country I know, I know—Elizabeth Arden may be a bit much for a man. But if he's brave enough to enter those famous crimson doors, he'll probably be glad he did. The Gentleman's Services are fairly simple—they offer man-tailored manicures, pedicures, or facials. Sometimes simple is the best way to go when it comes to dear old dad.[hr]
Various locations across the country Here's another option for fathers who like the luxe hotel experience, but can't make it to the Big Apple. Find your closest Ritz Carlton and book a specialized spa treatment just for dad. The menu includes a Gentleman's facial, a Muscle Ease massage, and a cool Sports Pedicure. Make sure you check which spa treatments are available at select locations before you book.[hr]
47 W 57th St, NYC, (212) 371-4542 Known for it's down-to-earth, non-snobby attitude (and excellent prices), Dorit Baxter is a gem of a NYC spa located in midtown Manhattan. The spa is offering an awesome "I Heart Dad" treatment menu for Father's Day, which includes three different packages: Energizing Dad, (a half-hour massage and sea salt body scrub); Pampering Dad, (a one-hour body massage, classic European facial, and manicure); and Male Wellness, (a body massage, European facial, hand paraffin treatment, sea salt body scrub, and a choice of a mani or pedi). If he's not relaxed after one of these amazing treatments, we're not sure what to say (maybe kick him a Valium?).
---

Susan is a freelance writer, born and raised in NYC and currently based in Brooklyn. She's the senior beauty editor for Meets Obsession, and also writes for online publications such as Mamasarollingstone.com, TueNight.com.
and The Huffington Post. Susan had a serious candle hoarding issue that she has no plans to address. She's currently obsessed with Marc Jacobs' new beauty line, her black Zara moto jacket, and Aaron Paul.
All author posts