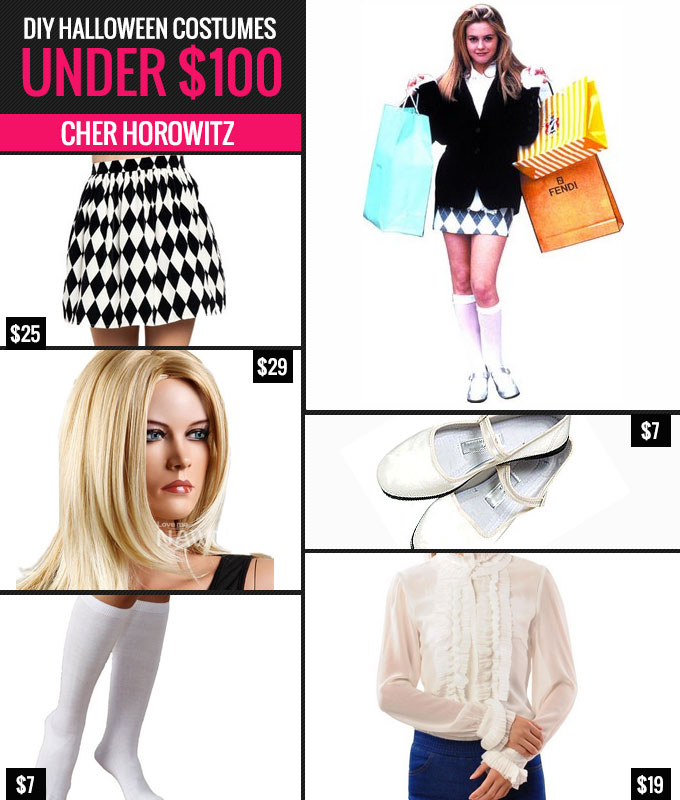 This Halloween, embrace the '90s like a true fashionista would: rock a sweet Cher costume.
We're not talking about Sonny's "infomercial" Cher (even though a 70s Cher WOULD make an incredible costume), but rather the "Clueless" teen queen, Cher.
To ensure  a Halloween costume  that's not "ensembly challenged," you'll need a button-down blouse with long, over-sized billowy sleeves that extend past the arm hole of the blazer (think like a pirate), a diamond  or argyle patterned black and white mini skirt, white knee high socks and baby dolls shoes.
And don't forget the shopping bags.
Perhaps you don't have  a hot step brother or a wardrobe that's worthy of adoration, but that doesn't mean you can't rock a mean Cher costume.   As If!
SHOPPING LIST
CharmingLong Gold Natural Straight center part Hair Style Women Wig | $29.99
May&Maya Women's Ruffle Collar Ruffle Trim Blouse | $19.99
Mary Jane Cotton China Doll Slippers | $7.99
Buster Brown Cotton Knee Socks, 3-pk | $7.95
DailyLook Women's, Diamond Checkered Skirt | $25
AT HOME LIST
A black blazer and a ditsy sidekick.