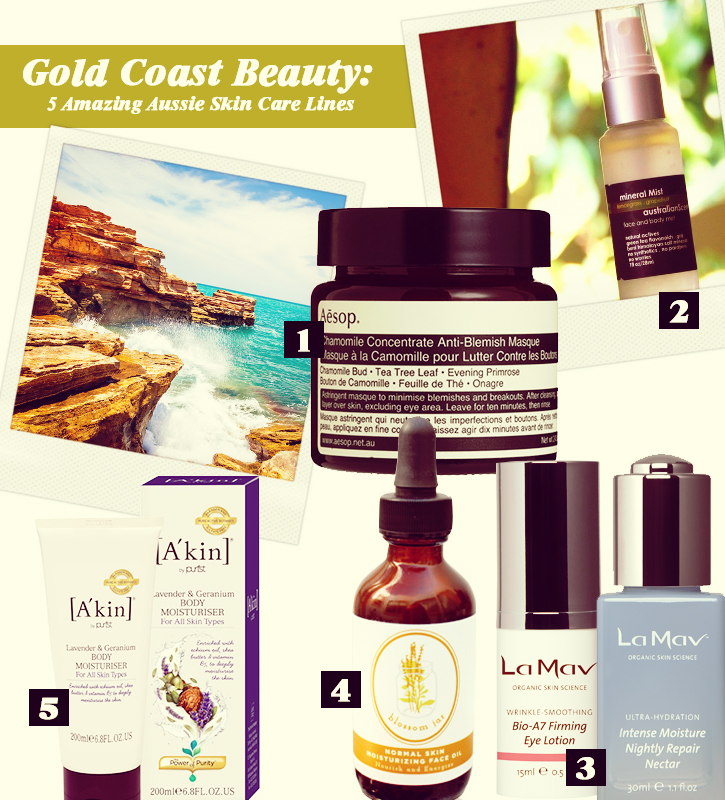 Some of the finest skin care products in the world come from Down Under, however, the majority of them are not well-known or widely available in the states.
There are some exceptions, though: Jurlique, for example, has become a beloved high-end line in the U.S., as well as Mor Cosmetics and Kora Organics, the latter of which is Mirandas Kerr's popular skin care line.
But did you even know that those brands were of Aussie origin to begin with?
Point is, there are a wealth of effective, eco-friendly Australian skin care lines on the other side of the world, and I've been fortunate enough to try five of them. Here's what I found:
Aesop, which was established in Melbourne in 1987, is quickly becoming a popular boutique line in the states.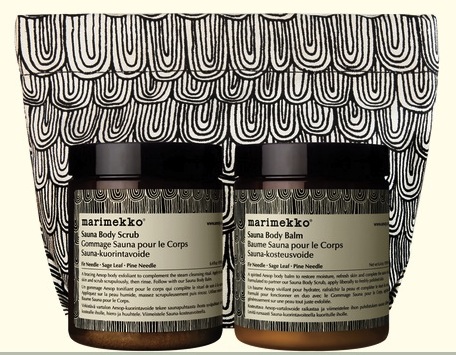 Here at MO, we're  currently lusting over their Sauna Duet, a cool collaboration with Finnish textile giant Marimekko, who designed the accompanying cotton bag that features the designer's popular 'Vellamo' print.
Inspired by the rituals of Scandinavian bathing culture, this double set—which includes a body scrub and body balm—contains purifying and detoxifying ingredients, as well as amazing, aromatic oils such as fir needle, sage leaf and pine needle. It's heaven in two bottles.
Also on our Aesop obsessed-with list? This Tea Tree Leaf Facial Exfoliant and Chamomile Concentrate Anti-Blemish Masque.
I discovered this Australian Scent here in NYC last winter when the brand had a booth at Grant Central Station's yearly holiday market. I bought these Gloss Pots, and instantly fell in love. They add amazing shine and a touch of tint to both a nude or colored lip, and it also keeps your lips moisturized (but not sticky) thanks to an array of organic ingredients, including hibiscus flower, raw honey and organic jojoba.
I'm also obsessed with their refreshing Mineral Mist (a summer savoir for sure), which is packed with antioxidant-rich green tree and goji berry.
La Mav has the honor of being Australia's first Certified Organic, anti-aging skin care line, formulated with 100% natural ingredients and free of harsh chemicals. "No woman should have to sacrifice beauty for health," says creator Tarj Mavi. And she's right, especially when it comes to the delicate area under our eyes. That's why we love the line's Bio-A7 Firming Eye Lotion, which wards off  wrinkles and de-puffs like a pro, with soothing, natural ingredients like Aloe Vera, Jojoba seed oil, and rosemary leaf extract, to name just a few.
We also love their Intense Moisture Nightly Repair Nectar, which is perfect for rehydrating dried out, sun-exposed skin after a day spent frolicking outside in the summer.
Sasha Fedulow Wirth started Blossom Jar after a health scare made her take a serious look at the ingredients in her skin care products. And she did not like what she saw. So she started her own line of face care filled with organic ingredients, and combined them with a years-old beauty secret she learned from her great-grandmother. (And no, she's not telling).
I tried the Moisturizer and Face Oil for Normal/Combination Skin, and what I loved the most was its brightening ability. I spread a small amount underneath my foundation daily and got a lovely, dewy glow (thanks in large part to the calendula and lavender infused in the oil). My skin also stayed supple and soft—but not greasy—due to the organic almond and apricot kernel oils.
Sasha handcrafts each bottle herself, which is made in small batches in Sydney, Australia.
A'kin and A'lchemy are both part of The Purist Company, a 15-year-old Australian-owned hair and skin care business that creates personal care products using only safe, natural, and non-toxic ingredients.
We love A'kin's Lavender & Geranium Body Moisturizer, which leaves skin silky soft as a result of Omega-rich Echium oil and hydrating Shea butter, vitamin B5, and cold pressed Jojoba oil, as well as organic avocado and lavender oils.
In terms of hair care, Al'chemy's Ginkgo & Jojoba Intensive Moisture Hair Masque is wonderfully restorative, and is formulated to protect color-treated hair (like mine). It's packed with strand-saving ingredients, such as certified organic avocado oil, ginkgo and white tea, vitamins E & B5, rice amino acids and wheat protein.
---

Susan is a freelance writer, born and raised in NYC and currently based in Brooklyn. She's the senior beauty editor for Meets Obsession, and also writes for online publications such as Mamasarollingstone.com, TueNight.com.
and The Huffington Post. Susan had a serious candle hoarding issue that she has no plans to address. She's currently obsessed with Marc Jacobs' new beauty line, her black Zara moto jacket, and Aaron Paul.
All author posts