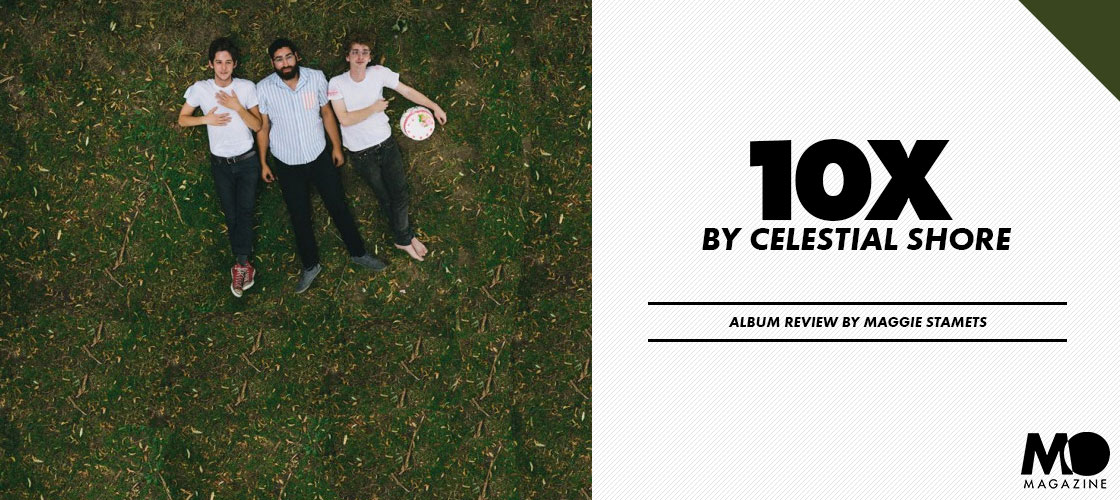 Brooklyn-based group Celestial Shore's debut album, '10x,' which features vocals from Empress Of's Lorely Rodregez, is set to be released on September 3.
Excitement built around this group after their 'California Eden' EP was released in 2011. Earlier this year, Celestial Shore released singles "Valarie" and "Hour Minute," and after much anticipation, their full album will finally be released.
In the tracks included on their latest album effort, the art-rock group takes you on an aural journey–for a ride in their car, to the beach, down a rabbit hole and all over the emotional spectrum–through life in New York City.
Each song tells a story through poetic lyrics as well as through the thoughtful composition and creative use of the ensemble. There are times all the elements together are chaotic, but when the layers of sound mesh together perfectly, it's magic.
The first four beats of "Hour Minute" demands the attention of the listener with a rare, understated measure of simple guitar followed by a striking "ding" of a triangle. Unfortunately, this is not heard again until the end of the song.
The first song on the album is a solid act that's tough to follow, but the perseverant listener will find the song is filled with fascinating syncopation and continuous change-ups in the guitar line. Although Sam Owens's vapor-like vocals tend to get lost, the lyrics do deserve special attention.
In the song "Valerie," Owens's voice drifts up and down like a yawn, seemingly overplayed to show the mutual boredom the subject of the song and the vocalist share with their dead relationship. The tonality of the song fits with the temperament of the main character, a girl who claims to be too bored to stay around. The piece simultaneously exemplifies the universal emotions of heartbreak and anger while personifying Valerie herself. 
The connection of music to emotion makes "Valerie" a highlight of this album.
Another favorite is "Car Car," which gives us a glimpse into the band's jazz roots. Lorely Rodregez's accompanying "ahs" float along the top of the melody in a pattern reminiscent of a scat line.  The song offers an intriguing sound that never lets you get comfortable by perpetually shifting rhythmic guitar, bass and drum patterns.
Although the album on the whole can be manic, the change in pace is exciting and properly mimics true human emotion—ever changing and always circling.
Celestial Shore's music is complicated; it takes a few listens to give each piece the attention it deserves.
Throughout the album, light and airy vocals are continually buried underneath the tumultuous sounds created by the collaboration of three talented musicians. The twists and turns that are initially overwhelming are what make 10x thought-provoking and uncomfortably smart.
[hr]
10x will release on September 3rd, 2013. To pre-order, click here
[hr]
Tags:
Album in Review
,
Album Review
,
Celestial Shore
,
Empress Of
,
Lorely Rodregez
,
Music Review
,
Sam Owens