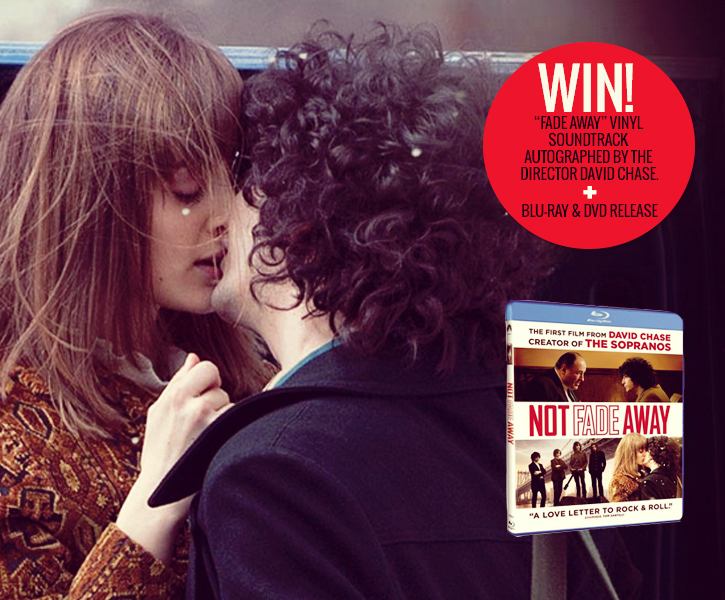 If you've been following Meets Obsession, you'll know that we are always connecting with our inner-rocker girl, whether it's in fashion or in music.
And that's why we jumped at the chance to give you, our dear readers, an opportunity to win the coolest music/film giveaway.
For the next two weeks, you'll have a shot to win a copy of the David Chase film "Not Fade Away," a movie about music in the 60s and how Rock and Roll changed the world.
Not only will 5 lucky winners win the Blu-ray & DVD release, but one winner will also have the chance to win a vinyl copy of the soundtrack signed by DAVID CHASE. And with a soundtrack that includes The Sex Pistols, Bob Dylan, and James Brown, you don't want to miss out on the chance to own this signed album.
Enter to win at the link:
[button link="https://reddotcreative.wufoo.com/forms/win-anot-fade-awaya-bluray-dvd-release/" size="medium" target="_blank"]Enter to Win[/button]
Synopsis: From the creator of The Sopranos, comes NOT FADE AWAY available now on DVD and Blu-ray. Follow Douglas as he's forced to choose between listening to his father, played by James Gandolfini, or following his dreams of being a 1960's rock star in this gritty, graceful salute to Rock & Roll.
Soundtrack:
1. There Was a Time – James Brown
2. Tell Me – The Rolling Stones
3. Ride On Baby – The Twylight Zones
4. Bo Diddley – Bo Diddley
5. Bo Diddley – The Twylight Zones
6. Subterranean Homesick Blues – The Twylight Zones
7. Parachute Woman – The Rolling Stones
8. Go Now – The Moody Blues
9. Time Is On My Side – The Twylight Zones
10. Dust My Broom – Elmore James
11. I Ain't Gonna Eat Out My Heart – The Rascals
12. Good Morning Blues – Lead Belly
13. Train Kept A Rollin' – Johnny Burnette & The Rock N' Roll Trio
14. Train Kept A Rollin' – The Twylight Zones
15. Pretty Ballerina – The Left Banke
16. Down So Low – Mother Earth
17. Itchycoo Park – The Small Faces
18. Me and the Devil Blues – Robert Johnson
19. The St. Valentine's Day Massacre – The Twylight Zones
20. T.B. Sheets – Van Morrison
21. Some Velvet Morning – Nancy Sinatra & Lee Hazelwood
22. Bali Ha'i (From South Pacific) – Original Motion Picture Cast
23. Road Runner – The Sex Pistols
24. Pipeline – The Twylight Zones
25. She Belongs To Me – Bob Dylan