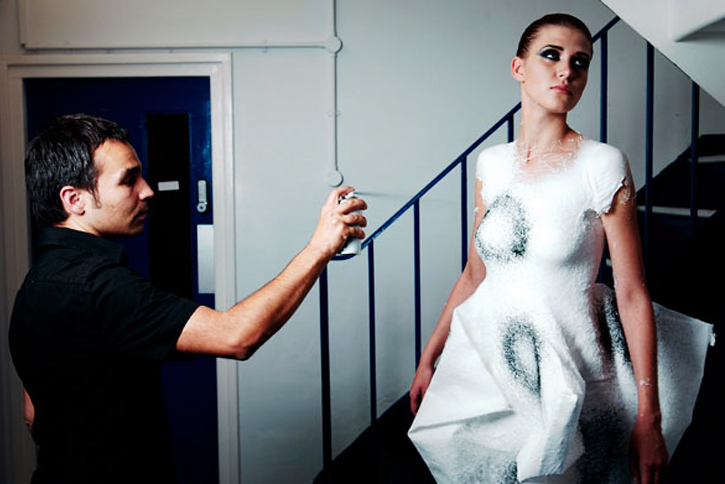 [dropcap]A [/dropcap]woman stops another woman on the street and says, "I absolutely adore your skirt." The woman wearing the skirt, proudly replies, "Thank you, I sprayed it!"
Thanks to Fabrican, a spray-on non-woven fabric, this scenario may soon become a reality.
Invented by fashion designer Manel Torres, who had his fabric-spraying epiphany while watching someone being sprayed with Silly String, Fabrican mixes tiny fiber particles with liquid polymer and delivers the fabric via aerosol can. The resulting effect is a non-sticking durable fabric that you can spray on, and it can be washed, reworn and can even be dissolved and reused.
With a limitless potential that extends beyond fashion (seriously, we have a sofa that greatly would benefit from a spray-on upholstery job), the medical field and industrial design field are equally as excited.
But for those that like to get crafty, Fabrican will soon be marketed to art and craft consumers.
We're totally counting down the days until this nifty spray arrives at our local art store. Until then, we have this video that explains how this magical fabric works.