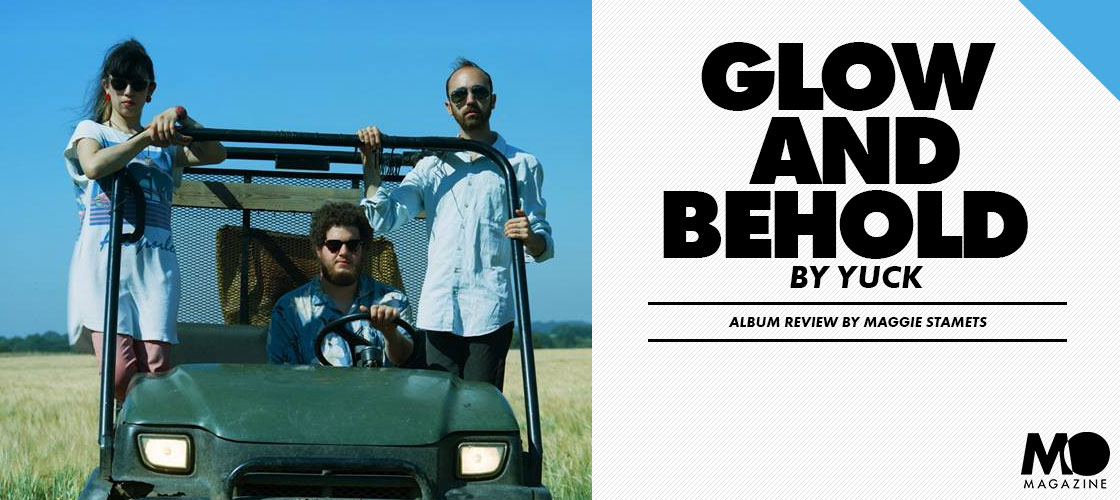 After their first self-named album, Yuck became the band to watch in the indie-music world. However, it was unclear if the band would soldier on after lead singer, Daniel Blumberg, left the group.  And as hoped, Yuck did not let a small thing, like losing their front man, stop them from producing.  Thankfully, Yuck guitarist, Max Bloom, stepped up to the mic  just in time for their latest album release, 'Glow and Behold.'
Overall, 'Glow and Behold,' seems to display the Yuck heard in "Suicidal Policeman," instead of the expected and energetic "Georgia" style Yuck, proving that  the evolution of the band did not progress how many fans thought it would.  This album displays a calmer, more astute group.
'Glow and Behold' opens with 'Sunrise in Maple Shade,' an instrumental piece that boasts an organic, repetitive melody with a surprisingly pleasant sprinkling of brass instruments towards the end. This piece, while very beautiful,  failed to deliver the spark of energy we are used to from Yuck.
Tracks 'Lose my Breath' and "Middle Sea" serve to punctuate the toned-down album with some energy and pizazz.
'Lose My Breath' is a plucky and catchy track, with one of those choruses you will find yourself humming unconsciously. The cautiously upbeat tune is the first we hear of a vocally confident Max Bloom.
What makes this piece stand out from the rest of the album is the chorus. Bloom channels a similar energy and vintage sound as Robbie Grey of Modern English circa 'Melt with You.' By moving away from the typical lazy sound we hear in the rest of the album and were accustomed to from Daniel Blumberg, Bloom stamps his own unique vocal style.
Tile track "Glow and Behold" is the "aha!" moment of the album, in which everything seems to come together for Yuck. After listening to this track, concerned fans and critical skeptics should put their worrying on the shelf – Max Bloom seems to have finally found a vocal style that suits him.
The final track itself incorporates the energy of the old Yuck, mixed with a dash of vintage flare, a few trumpets and a pop-punk-esque minute-long guitar solo to finish it off—all combining to create a novel group and a good-as-new sound.
There is no use mourning over the loss of Daniel Blumberg. Yuck is here to stay with Max Bloom center stage leading them into a new era of thoughtful expression and musicality.


---
Maggie is a writer based in Long Island, New York. She is heading into her second year at Hofstra University studying Journalism. If there is any time to spare in her hectic schedule of compulsively listening to, reading about, and watching music videos of the Vaccines, Maggie enjoys spending time on air at WRHU Radio Hofstra University, blog-hopping and binge watching 'Dawson's Creek' with her fish Tina Fillet.
Maggie is currently obsessed with the Vaccines, Lorde and watching vintage episodes of 'SNL' on DVD.
All author posts