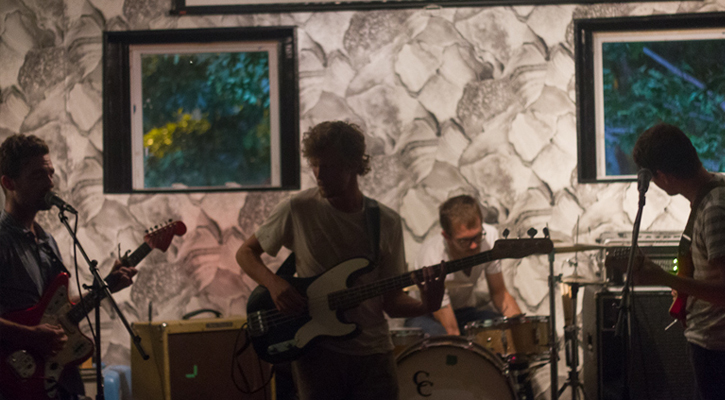 Having the recent release of their third album, "Destruction in Yr Soul," behind them, Hospital Ships, the Lawrence Kansas-based quartet, stopped by DC's The Sunshine District for a live performance.
Vocalist Jordan Geiger, who in the early days of Hospital Ships was the band's sole member, was joined on stage by fellow bandmates Nathan Dixey, Taylor Holenbeck, and Nathan Wilder for an intimate performance.
With their sentimental sounds of folky, hazy, ethereal melodies juxtaposed against disjointed sharp fragments of lo-fi garage rock, the band played a set mostly made up of tracks from the new album while adding one or two songs from  2008's "Oh, Ramona" and 2011's "Lonely Twin."
Peep the photos from the show below.
Standout Tracks:
Come Back to Life
Joan of Arc
If it Speaks
Lost Folk Song
Photos by Joshua Feldman.
[justified_image_grid flickr_user=95100483@N08 flickr_photoset=72157634311444245]
---

Josh is a writer/photographer based in the nations Capital. He is an Arts Professional by day and also our Music & Entertainment Marketing and Promotions Editor. You may also see him with a camera in one hand, as a professional event photographer. In his spare time he enjoys collecting records, making semi-vegan food, and playing guitar in his band project, The Unnoticed Truth.
All author posts