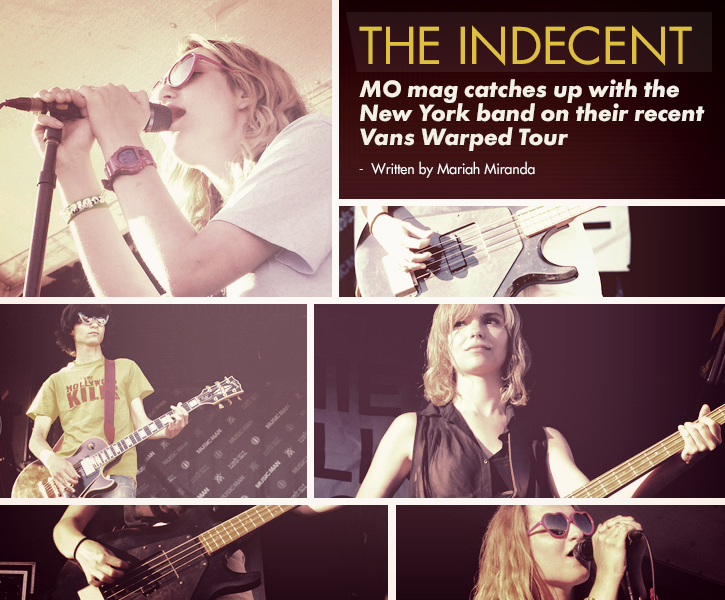 Every summer, for the past nineteen years, hundreds of bands come together for a raging, around-the-clock partying, exhaustion ride through America, known as the Vans Warped Tour.
Originally starting out as showcase for mostly punk bands, today, the tour consists of a variety of musicians from all different genres, from old time roadies like Silverstein and Motion City Soundtrack, to pop acts like Katy Perry (in 2008, Perry  toured on Warped right before "I Kissed A Girl" went viral!).
The Warped tour acts as a platform for younger acts, and it's not uncommon to find members of these bands to be as young as 17.  And such is the case with the NY-based alternative band, The Indecent, who joined the Warped Tour for six weeks.
The band, who signed to Warned Bros in 2011, is comprised of the Brout triplets Emily (lead vox), Bo (guitar), Madeline (bass) and their long time friend Nicholas (drums).
Meets Obsession recently met up with the newcomers to ask about their sound and stance as a band on this year's Warped tour.
MO: How have you stayed motivated throughout these years?
Emily: Music changes a lot – its never boring. We're constantly trying to get better.
Bo: Constantly building.
Emily: And 2008 is when we had just started, we've grown a lot since then. The music isn't the same. We were learning to write at that point and figure out our sound. We were a completely different band then.
MO: Have you ever had hard times where you thought of quitting? How does it feel to work with your family?
Emily: Oh yeah! I mean, but of course. I'd never actually follow through with it.
Nicholas: We get sick of each other sometimes, but it has its perks. We're a band full of friends, no one ever stays mad. Its something that's hard for a new person to come into, but we work really well together. Sometimes it can get 'Fuck you!' hardcore. Its like Andy Warhol throwin' shit (laughs).
MO: So how does the writing process happen? Does someone write all of the lyrics, music?
Nicholas: Well, Emily definitely does the lyric melody.
Emily: Yeah, and there's no limit.
Bo: If there is an idea – it doesn't matter. If I have a bass line, I'll start playing it then we'll go from there.
Nicholas: We wouldn't write for the benefit of money. Like, on the new album, we really did what WE want.
Madeline: No specifics.  Whatever comes to us.
MO: You said you have a new album coming out?
Emily: It's been written and recorded as a demo, but we're still waiting for a producer.
Nicholas: We don't just want to ask any producer. We don't want someone we're constantly having to watch because they're taking over and adjusting things we don't want.
 What do you bring to the table that other artists don't? What makes you stand out?
Nicholas: I would say its our sound. With the new stuff it has a more psychedelic sound.
Emily: We have a lot of comparisons to the '90s.
Madeline: And underground '90s.
Bo: We've been compared to Hendricks and Velvet Underground.
MO: What are you guys currently listening to?
Nicholas: Hot Tame Impala.
Emily: Elliott Smith, and oh my god, Big Star.
Madeline: Queen Stone Age (everyone laughs).
Bo: Ty Segall.
[hr]
For more on The Indecent, visit their website at theindecent.com to download their summer sampler. Also be sure to check out our gallery for shots we caught of them at Warped Tour 2013.