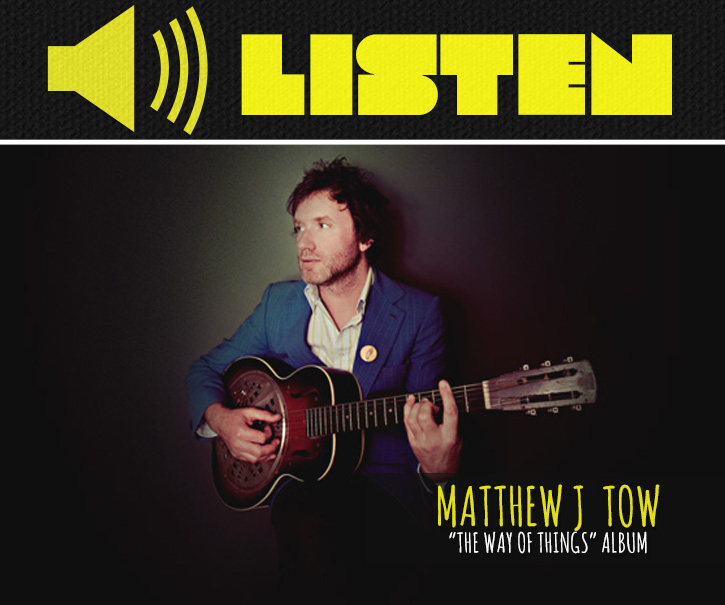 Having spent well over 20 years in the music business, singer/songwriter and guitarist Matthew J Tow has been a musical drifter of sorts.  Since the early 1990s, Tow has been involved with various music projects. He founded the popular Australian band Drop City as well experimental collective Colorsound and The Lovetones. Not only was Tow founder of three successful bands, but he was also the rhythm guitarist for popular San Francisco-based band Brian Jonestown Massacre.
When it comes to triple threats, Matthew J Tow is the real deal.
With a successful career in music that most aspiring musicians could only dream about, we knew it was just a matter of time before Tow would try his hand at a solo career.
Tow's time has arrived…
Earlier this month, Tow released his debut 9-song album, appropriately named, "The Way of Things."
Produced by Collin Hegna and Ryan Carlson van Kriedt, Tow's solo effort reminds us that rock can pay tribute to past music generations and genres but still can be something new and unexpected.
From his meaningful lyrics—all of my answers turn into questions/looking for something that is no reason/I can feel nothing when our worlds collide—to his dreamy guitar melodies,  and his sweet, sentimental croons, Tow puts his own distinct spin on the psychedelic rock genre in a catchy, solid and well-produced album.
There are mere moments, while listening to "The Way of Things" that Tom Petty or John Lennon comes to mind—however, Tow has a unique sound of his own that is wholly new.
Standout tracks:
Seven Days
I love my Brother
You would like this band if you like:
The National
Elbow
Fruit Bats
---

Josh is a writer/photographer based in the nations Capital. He is an Arts Professional by day and also our Music & Entertainment Marketing and Promotions Editor. You may also see him with a camera in one hand, as a professional event photographer. In his spare time he enjoys collecting records, making semi-vegan food, and playing guitar in his band project, The Unnoticed Truth.
All author posts