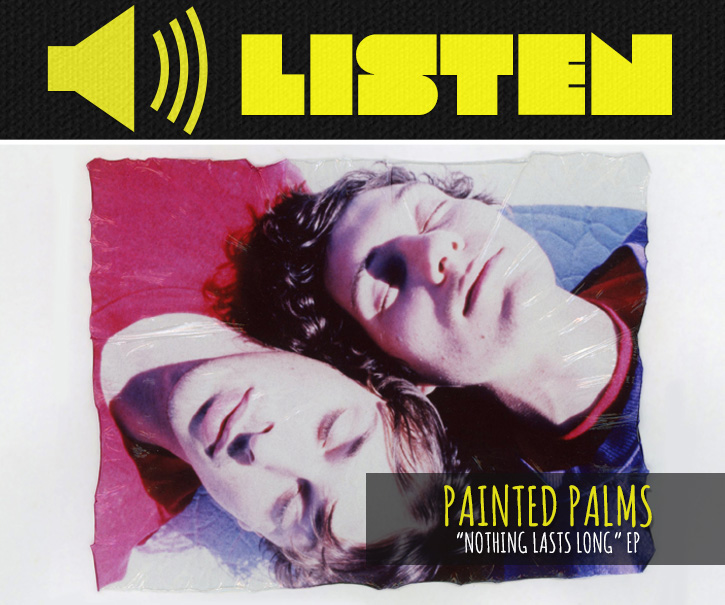 Painted Palms, the up-and-coming psychedelic pop group, is anything but simple. Their layered, lush sounds, rich with echoey new age pop and electronic influences are the perfect love songs to summer.
Partly discovered by Of Montreal frontman Kevin Barnes, the Palms duo—consisting of Reese Donohue and Christopher Prudhomme— gained ground when Barnes found their LP online and invited the two to open for his band on a nationwide tour.
Recently, Painted Palms released an impromptu  EP entitled, "Nothing Lasts Long," which is currently available as a free download. The EP boasts 5 infectious summer-worthy songs that we just can't get out of our heads.
Trust us. You'll want to download these tracks to add to your feel-good music collection.
Nothing Lasts Long is available now for free download via Bandcamp.
Standout tracks:
Not Really There
Over Me
Anna
You would like this band if you like:
Of Montreal (early stuff)
The Spinto Band
The Shins
---

Josh is a writer/photographer based in the nations Capital. He is an Arts Professional by day and also our Music & Entertainment Marketing and Promotions Editor. You may also see him with a camera in one hand, as a professional event photographer. In his spare time he enjoys collecting records, making semi-vegan food, and playing guitar in his band project, The Unnoticed Truth.
All author posts