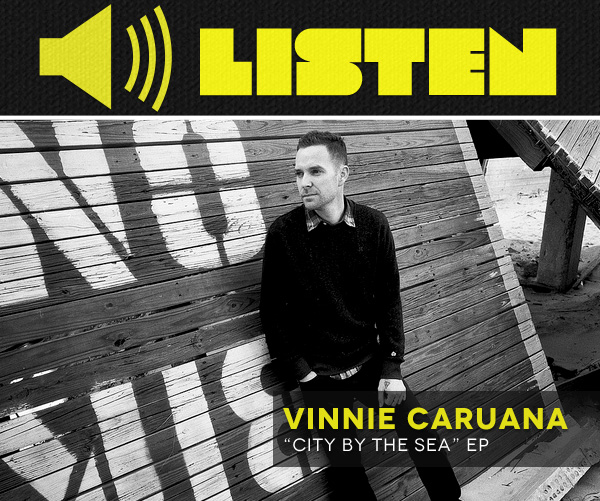 I have to admit, I'm a sucker for grungy vocals and an acoustic guitar. Seriously, set me up with the Erik Petersen's of the world, and I've got a discography that I can listen to forever.
When I heard that Vinnie Caruana—former frontman of The Movielife and lead singer of I Am the Avalanche—was doing his own solo album, I didn't know what to expect.
However, at first listen to Caruana's solo debut "City By The Sea" EP, I was hooked.
Inspired by Hurricane Sandy, "City By The Sea" features six sentimental tracks that impressively shows Caruana's wide acoustic range and his strong songwriting skills.
Peep the recommended tracks below.  You're welcome.
[label style="important"]Standout Tracks[/label]
Somehow the World Keeps Turning
Boy You're in Heaven
If I'm a Battleship Then You're the Northern Lights (thank you)
[divider]
[label style="important"]You would like this band if you like:[/label]
Against Me!, I am the Avalanche, Mischief Brew
[divider]
Vinnie Caruana's debut solo EP "City By The Sea" is out on February 5th via I Surrender Records and Run For Cover Records.
---

Josh is a writer/photographer based in the nations Capital. He is an Arts Professional by day and also our Music & Entertainment Marketing and Promotions Editor. You may also see him with a camera in one hand, as a professional event photographer. In his spare time he enjoys collecting records, making semi-vegan food, and playing guitar in his band project, The Unnoticed Truth.
All author posts