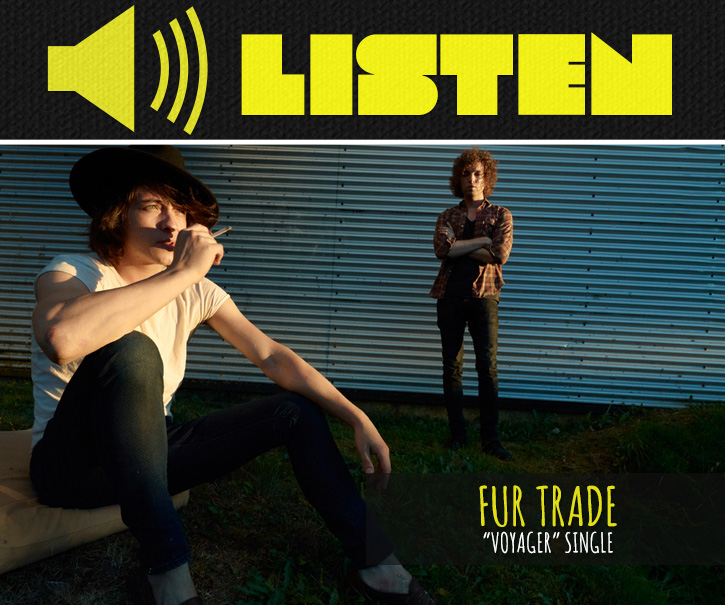 And yet another band from Canada is making us all giddy with delight.
Our latest music obsession is with Fur Trade, a Vancouver-based band whose sound is self-described as "post wave neo yacht rock."
Inspired by '70s acts like David Bowie, Sade, Hall and Oates, Fur Trade is comprised of long-time friends Steve Bays (of Hot Hot Heat fame) and Parker Bossley (of The Gay Nineties).
Describing their signature sound, Bossley explains, "We take our shared love for soft pop from the 70's and 80's…and add our own touch of modern grime and dirt in there."
The band just released their latest album "Don't Get Heavy" via Last Gang Records (Crystal Castles, Metric, Death From Above 1979) and we had a chance to listen to it in its entirety.
Do yourself a favor and take a  listen to their first single, "Voyager," off of their "Don't Get Heavy" album.  Addictive dreamy voices and airy– yet dance-worthy– beats lie ahead.
Standout Tracks:
Don't Get Heavy
Kids These Days
Voyager
Praying to the Lottery Ticket God
You would like this band if you like:
Metric
The Sound oa Arrows
Architecture In Helsinki
---

Josh is a writer/photographer based in the nations Capital. He is an Arts Professional by day and also our Music & Entertainment Marketing and Promotions Editor. You may also see him with a camera in one hand, as a professional event photographer. In his spare time he enjoys collecting records, making semi-vegan food, and playing guitar in his band project, The Unnoticed Truth.
All author posts