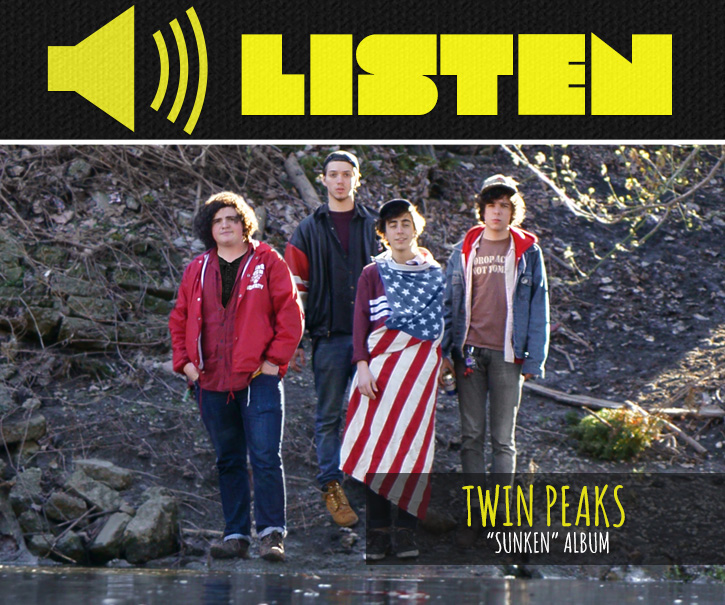 If you've never heard of the Chicago-based band Twin Peaks, stop what you're doing and take a listen.  Like us, we're sure you'll be hooked at your first listen
Part dream pop, part beach-y garage rock with hazy, lo-fi guitar riffs, the band's sound reminds us of our long-lost teenage days of summer. And that's exactly why we've got their songs on repeat.
Having just released their debut eight-track record "Sunken," Twin Peaks, comprised of  19-year-old band mates Cadien Lake James, Clay Frankel, Connor Brodner and Jack Dolan, have come a long way since their self-booked three-week US tour last year.
"Sunken," which was released on July 9 on Autumn Tone, has already gained critical acclaim. And we're not surprised one bit.
From the catchy hooks of "Fast Eddie," to the thrash of "Out of Commission," we're digging this album to its core!  We're definitely adding this album to our beach play list!
Comment below or share the album to give us your take and fave tracks.



Standout tracks:
Baby Blue
Fast eddie
Sand in the Sand
You would like this band if you like:
Build to Spill

Pavement
---

Josh is a writer/photographer based in the nations Capital. He is an Arts Professional by day and also our Music & Entertainment Marketing and Promotions Editor. You may also see him with a camera in one hand, as a professional event photographer. In his spare time he enjoys collecting records, making semi-vegan food, and playing guitar in his band project, The Unnoticed Truth.
All author posts