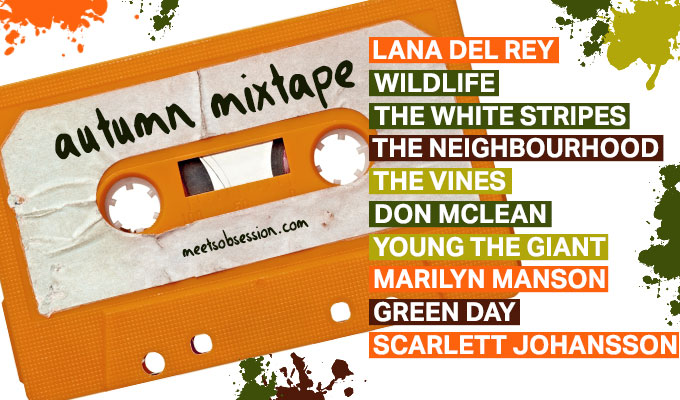 Starbucks and grocery stores are selling Pumpkin flavored everything, drugstores are stocked with bags of  yummy candy that you try (but never succeed) to avoid, and at least two people you know of have the flu.
Yep, ladies and gents, it's officially autumn.
And just like our summer to autumn wardrobe transition, your music, too, deserves a seasonal update.
While summer was all about beachy, summer hazy rock, autumn has a different kind of sound – one that is the perfect accompaniment to those brisk, leaf-falling days that are best spent indoors.
But if you're not sure which tracks should make the seasonal cut, don't worry,  we've got you totally covered with a mix of all of our favorite,  undeniably autumn songs.
So grab a few of these tracks for your very own mix tape, or just keep it just the way it is. Either way, our list will be sure to give your ears magical music moments.
This remix offers an upbeat spin on the melancholic original but pays perfect homage to a summertime passed. The melodies will have you hooked and might even make you wish it was summer again already.

Pulling out your favorite hoodie is quite possibly the best part of fall. You have somehow forgotten how cold it will get in coming months and just the joy of not being drenched in sweat is enough. As the song suggests, it's all about that sharp change in weather and that sense of adventure, even if it's just for a walk in the park.

3. Vincent (Starry Starry Night) –

Don Mclean
This song, which was featured in the film "The Runaways," makes you want to dream about a clean, crisp night that offers stellar star gazing.

4. Dead Leaves and the Dirty Ground –

The White Stripes
Imagine the smell of dirt right after it rains and the left over muck lying underneath a thin layer of dying brown leaves. The emptiness and transition of a season from cold to colder bears resemblance to the song subject of the emptiness of losing a relationship partner.

The title explains itself. Make sure that you do indeed realize that October 31 is Halloween, and also steer clear of looking at a recent picture of Marilyn Manson, which is terrifying.

6.
Wake me up when September Ends 

– 

Green Day

"Wake Me Up When September Ends" is song that was tied to the terrorist attacks but is actually about the loss of Billie Joe Armstrong's father. Regardless, it evokes a stroke of remembrance for that fall season and the importance of living each day to its fullest.

Is it Thanksgiving yet?  We can already taste the turkey we'll enjoy during our scheduled time off during the Thanksgiving holiday. While we might not want to "Get Free ride into the sun," as the song suggests, we are certainly eager to get free of our responsibilities and eat some good home cookin'.

That's right, folks,  it's FLU season. Get ready for those pesky shots and runny noses. Young the Giant has this catchy number that may or may not have to do with dependence on substances. But hey, it's a really good song! Be sure to always wash your hands, boys and girls.

Some might scowl at me for including this, but "Falling down" (a Tom Waits original) is all about changes: whether with the constant tearing down of LA businesses, the allegory with the emotional unavailability within yourself, or maybe leaves changing color and falling down to signify the change between fall and winter. Consider this the Seasonal Affective Disorder track, because not everyone is wired for change.

10. Lightning Tent –

Wildlife
Grab a tent, head for the mountains (if it's not closed due to the government shutdown) with a flashlight in hand. Who knows, you may even have to brave a storm while you are out there.  Make this autumn an adventure with "the past is just a bridge," as Wildlife suggests.
---

Tricia, a graduate from the University of Mary Washington in Popular Media Journalism, is a writer currently residing in Columbia, SC. Tricia is currently obsessed with The Great Gatsby, Jack Johnson, Jack Daniels, large thrift stores, Atlas Genius, and radio shows.
All author posts