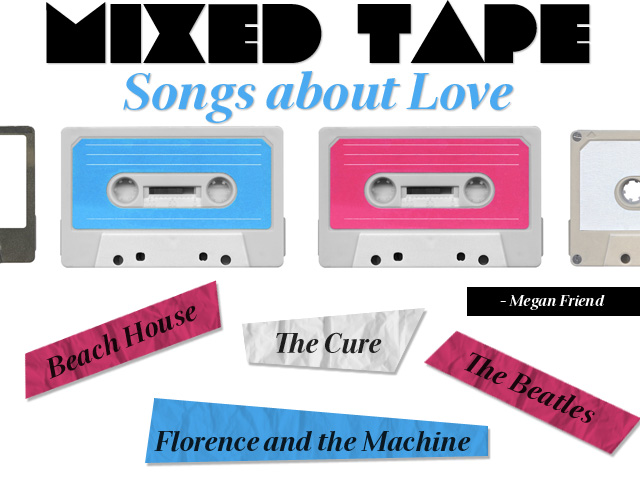 As the anticipated day of "love" — or for some, misery — quickly approaches, we've put together a musical mix that will get you in the mood for tomorrow's festivities. Whether you're single, in bliss coupledom, or just want to listen to some feel-good tunes, we've got you covered.
Check out our list, and play your favorites–we guarantee that our song picks will have you grooving along and finding solace in their enticing lyrics and melodies. No Celine Dion in sight.
"Lover of Mine" by Beach House
Beach House has the ability to transcend you to misty shores, feeling alive, in love and at peace. "Lover Of Mine" is seductive and uncomplicated and full of storytelling delight.
"Wouldn't It be Nice" by The Beach Boys
Naïve, beautiful and full of hope, "Wouldn't It be Nice" is more than just a love song. It's a song for all those wanting to retain a sense of youth, in time passing and lessons learned.
"Your Song" by Elton John
Elton John can really do no wrong when expressing the most dire and humanist of emotions in wailing ballads. "Your Song" is an iconic love song, commanding in its delivery and honest in its lyrical simplicity.
I Found a Reason" by Cat Power
Haunting, powerful and beautiful. Cat Power gives an alternative ode to time, love and belief.
"Harvest Moon" by Neil Young
There is something endearing about Neil Young's classic tune, "Harvest Moon." With dreamy exertions of nostalgia and childhood bliss, "Harvest Moon" reminds me of a simpler time, when the moon, some music and a little serendipitous magic was all you needed to make memories to last a lifetime.
"Unchained Melody" by Righteous Brothers
An oldie but a goodie. Peaceful, sincere and catchy, "Unchained Melody" has become a true American anthem of love and affection.
"You've Got the Love" by Florence and the Machine
Florence could be singing about anything and it could sound like poetry. But this ethereal goddess gives one of the most identifiable modern love grooves of the last couple years with "You've Got the Love."
"Lovesong" by The Cure
A true testament to love's healing powers. The Cure's "Lovesong" is timeless and prosaic.
"All You Need Is Love" by the Beatles
This might be the quintessential love song for the universe. It is a mantra of loving, not only others, but yourself, the earth, and the entirety of existence in general.
"Your Body is a Wonderland" by John Mayer
More sensual than anything, John Mayer makes the act of making love, poetic and full of wondrous mystery and discovery.
"Blood Of Eden" by Peter Gabriel
An ethereal and weaving song alluding to the beginnings of connectivity between Man and Woman. More spiritual than religious, "Blood of Eden" is a narrative full of colorful imagery and playful metaphor.
"Cause We Ended As Lovers" by Jeff Beck
One of the most powerful instrumental tracks of all time, "Cause We Ended As Lovers" takes you on a journey through the depths of human sentiment, passion and imagination in wailing melodies. No words. And no words are needed.
"Wonderwall" by Oasis
A modern take on a timeless emotion. "Wonderwall" expresses the inexpressible emotion of feeling a heightened sense of longing for someone that seems to surpass any sense of reason.