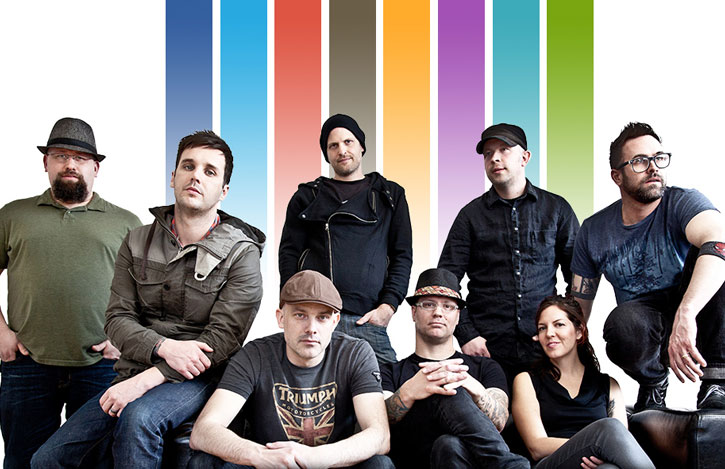 Having disbanded in 2003, ska band, Five Iron Frenzy, released a statement in 2011 that they were back together and started a kickstarter to fund a new album.
A fan of ska since I was 15 (I am now 25), I was super-excited to hear that the once-popular Christian ska band would once again perform live shows.
Their first comeback show was in their hometown of Denver, CO. A year later, they announced a tour, and lucky for me, Lancaster, PA's Chameleon Club was one of their pit stops.
Last week, I arrived early—at 6:30pm—to the anticipated show at the Chameleon Club. The show wasn't until 8:00 pm, and when I arrived, there was already a long line waiting to get into the venue.
Despite the line, my hunger surrendered. I left to grab a bite to eat in the neighborhood, arrived back at the venue around 8:00 pm and was able to walk right in.
Surprisingly, the venue had not only sold out the show, they OVER sold the show, and, therefore, trying to get the perfect spot in the crowd was a little challenging.  Thankfully, a bit of  pushing and shoving got me through to my perfect viewing spot.
The first band, House of Heroes, was your typical alternative rock band.   I was able to catch the end of their set, and though they weren't my style of music, the crowd seemed to really enjoy them.  They finished their set and everyone began eagerly awaiting Five Iron Frenzy.
After about a half hour of setting up, the band took the stage.  The band came out and immediately began playing their first song, "Blue Comb," which was a great way to open the show.
They played a couple of my favorite songs, which included "Handbook for the Sellout," "One Girl Army," "At Least I am not Like all Those Other Old Guys," "American Kryptonite," and, of course, they ended the show with crowd favorite "Every New Day."
The band played each song with precision, and even threw in a couple of covers and some new songs into the mix.
However, even with those songs, their song selection was still lacking.  The band didn't do an encore, which upset a lot of fans because most people, including myself, waited 10 years to see them.
Being a hardcore ska and Five Iron Frenzy fan, I am stoked that I got to see the band play (seriously, 10 years is a long time to wait).
If I were rating the show, I'd give it a solid 4 out of 5, and would urge any fan of the band–or ska music–to check them out live. Regardless of the missing encore, it's hard to deny how entertaining the show truly was.
Set List:
Pre Ex-girlfriend
At Least I'm Not Like All Those Other Old Guys
One Girl Army
*New Song*
Phantom Mullet
When I Go Out
Milestone
You Cant Handle This
Power of Love (Huey Lewis cover)
Where the 0 Meets the 15
You Probably Shouldn't Move here
*So far* (another new song)
Every New Day