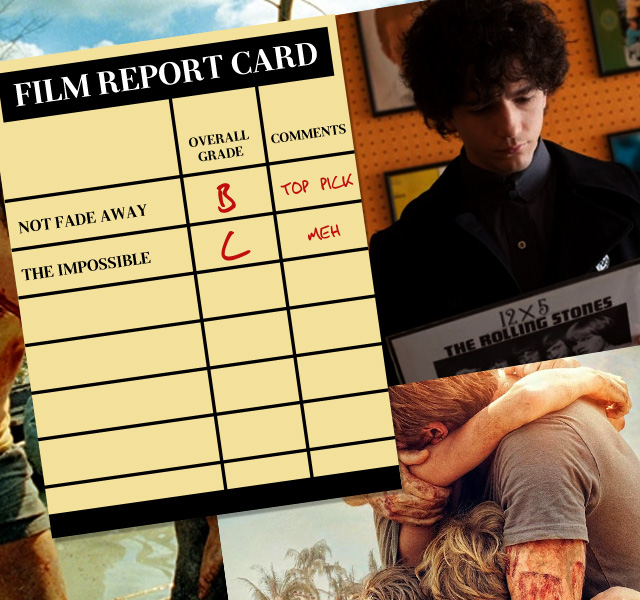 In our weekly report card, MO writers and editors grade the films opening in theaters each week. Find out which movies make the grade, and which ones don't.
TOP PICK:
Not Fade Away
Set against the backdrop of the swingin' 60s, writer/director David Chase's ("Sopranos" creator) feature film debut is a poignant, detailed, albeit meandering coming-of-age story about a group of young misfits who hear bands like The Beatles and The Rolling Stones for the first time and decide to start a band.
The film begins earnestly with a black-and-white flashback retelling the infamous meeting between two kindred teens, Mick and Keith, on a train in London's tube system. The duo, of course, are the fresh-faced blues nuts destined to reshape the musical landscape as The Rolling Stones. The film then cuts to the meeting of two other young music fans, destined to start a band, but never achieve any sort of success like The Stones. Instead, the film follows the plights of the band during their several years together before falling apart unceremoniously.
Ultimately, "Not Fade Away" shows a lot of promise, but Chase becomes too caught up in nostalgic naval-gazing and a stellar soundtrack to allow the narrative to focus in any one direction. Needless storylines that don't go anywhere, and character developments and motivations that happen off screen make for a somewhat confusing film. "Not Fade Away" is certainly an impressive debut, but like the masterfully crafted and revolutionary TV show Chase is known for, it would have been better suited for the small screen.
Overall Grade: B | ► Buy tickets to this film

MEH:
The Impossible
What could have been an awe-inspiring and heartfelt story about the hope and heartbreak of the tragedy surrounding the 2004 Indian Ocean Tsunami, ends up being a by-the-book, white-washed story about the hope and heartbreak of the 2004 Indian Ocean Tsunami. Directed by Juan Antonio Bayona, "The Impossible" tells the true story of a family of five vacationing in a posh Indonesian waterfront resort when the devastating Tsunami hit.
Starring Ewan McGregor and Naomi Watts as the vacationing parents of three small boys, the film tells the harrowing journey they go through to reunite with each other and their kids in the chaotic aftermath of the Tsunami's destruction. Through injury and obstacle, the family overcomes incredible odds to reunite among the destruction, but the whole film feels like a cookie-cutter disaster narrative. It utilizes certain themes and a glossy soundtrack to emotionally manipulate, but lazily glosses over the fact that thousands of Indonesian natives lost their families and lives in the Tsunami.
The film features some rather impressive visuals, as the Tsunami rolls in and literally obliterates everything in its path, but the film never leaves its comfort zone and feels like a "white people survival story for white people."
Overall Grade: C | ► Buy tickets to this film
Tags:
Ewan McGregor
,
Naomi Watts