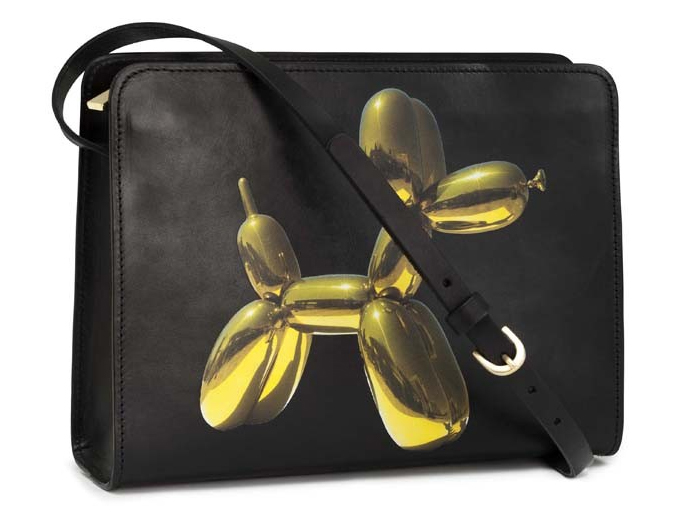 If there is one thing that H&M has mastered over the years, it is the art of the perfect collaboration. The Swedish-based retailer's collaborations have been some of the most sought after collections within the last few years. From Versace to Lanvin to Isabel Marant, these one-off designer collections have created online frenzies, overpriced Ebay auctions and long lines at H&M locations on release days.
But the latest H&M collaboration is not with a high-end fashion designer, but rather a very high-end artist who is turning the brand's new flagship on Fifth Avenue into his own personal work of art.
Jeff Koons, the man who holds the record for the highest auction price for a work by a living artist, has teamed up with H&M to turn the new store into a retail museum. Balloon Dog (Orange) sold for $58.4 million just last year, and in tandem with his new retrospective at New York's Whitney Museum (open from June 27th to October 19th), Koons and H&M have designed a personal "doggie" bag for all fashion and art lovers out there.
The leather crossbody bag, featuring Koons' most famous work, will be sold at the Whitney Museum during the retrospective as well as select H&M stores and online. The bag will retail at $49.95, for all of us who can't afford to purchase an actual Jeff Koons' work of art, and it will be available starting July 17.
Koons stated in a press release that, "The partnership with H&M was really exciting for me. The chance to showcase one of my most popular works to a new generation of people was inspiring."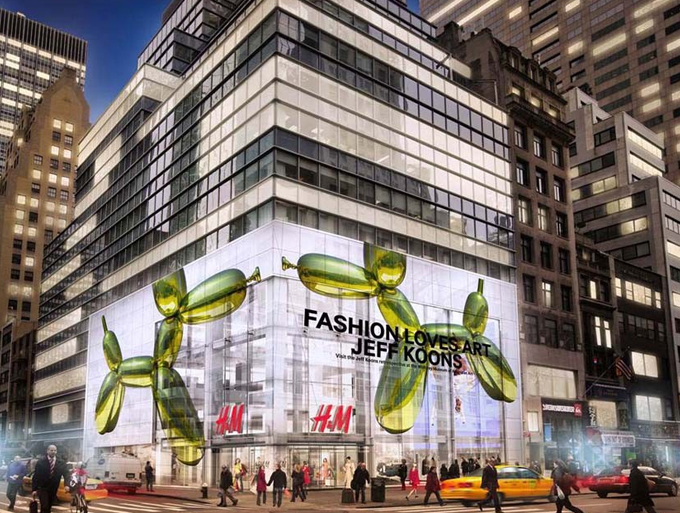 Coincidentally, July 17th is also the date of the opening of the new flagship store. The new location will be the largest in the world, featuring six floors in a  57,000-square-foot space. For the grand opening, Koons' Balloon Dog (Yellow) will be featured on the facade of the building with the words "Fashion Loves Art," an apt name for this collaboration.
Along with partnering with a world renowned artist, H&M is making this location more high-end than its other locations to fit in better with some of it's neighboring stores on Fifth Avenue. Using high end materials like green and white marble, herringbone woodwork, pillars, and an entire wall of mirrors, this will not be any ordinary H&M location. The building will also feature a 5-floor atrium, a 26-by-20 foot LED screen in addition to each floor having it's own museum-inspired theme. This will be the first H&M location to stock all categories, everything from men's and women's clothing to newborn to cosmetics, and it will even feature the first ever home section.
"H&M delivers great fashion season after season and [it will be] nice to see my work at their new story," stated Jeff Koons in a press release. This collaboration between H&M and Jeff Koons is a first, but will hopefully produce an amazing decor to what is sure to be an unprecedented H&M flagship store.
When the Fifth Avenue flagship opens on July 17th, the reign of H&M's retail domination is just beginning. Later this fall, H&M will open it's new largest store (63,000 square feet) in Herald Square, directly across from the Macy's flagship. The Swedish retailer also has another collaboration in the works with Alexander Wang, which is expected to hit stores on November 6th. And if the company wasn't growing enough already, they plan to bring COS (Collections of Style) as well as & Other Stories, both chic siblings of H&M, to the US. Both brands are expected to open stores in SoHo this fall.
The growth of H&M is unprecedented, and with this Jeff Koons collaboration, the Swedish retailer is establishing it's new flagship as a high-end location for the brand. Next up, total world domination.
---

Lindsey is a writer based in Washington, D.C. She is currently in her third year at The George Washington University studying Business Administration. Lindsey enjoys spending time working at DC's famed Georgetown Cupcake, and in her spare time watches anything that smells like an Oscar nomination. Lindsey is currently obsessed with Skyping with her dog, listening to Avicii on monument runs and making pancakes at midnight.
All author posts