Whether you're actually planning to spend your day on the beach, or are just hitting a late-night party and want to look like you have, there are a few key essentials you need to get that laid-back — and super sexy —surfer girl style. But it doesn't take much. Here's a quick list of beauty must-haves to get you "on board" (pun intended).
That Surf's Up Smell
Nothing makes you smell more like you came from the beach than the appropriately titled "Beach" Body Oil by Bobbi Brown, $31. The fragrant blend of sand jasmine, sea spray and mandarin is heavenly, and the moisturizing oil will give your skin a sultry sheen. "Beach" also contains four essential oils (olive, sesame, avocado and jojoba), plus vitamins E and C, which will soften and nourish your surfer-girl skin.
Texturing Surf Spray For Your Hair

If you want to make it look like you spend the day frolicking in the ocean, you're hair needs to have that tousled texture that only salt water provides. Check out our list of favorites (all of which are under $10!) and make sure to apply liberally.
A Blendable Bronzer
If you want to pull of a true sun-kissed, day-at-the-beach look, you want to make sure you use a bronzer that has a variety of shades in one palette. Too Faced Beach Bunny Bronzer, $30, is a perfect pick, as it contains four shimmery, natural-looking shades that you can blend as needed for a summertime tan that's true to your skin tone.
Lovely Lips
Sure, some serious surfers let their lips get totally chapped, but a sexy surfer girl would never let anything of the sort occur. She wants smooth lips and subtle color, which you can get from Fake Bake Lip Gloss, $12. We love the "Undercover Babe" shade, because it's the lightest, most natural looking of the seven hues, but still adds a pretty, pearlized pink, along with a subtle scent of peach and strawberry.
---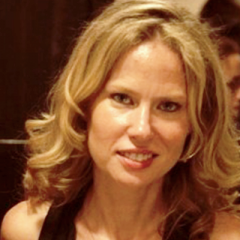 Susan is a freelance writer, born and raised in NYC and currently based in Brooklyn. She's the senior beauty editor for Meets Obsession, and also writes for online publications such as Mamasarollingstone.com, TueNight.com.
and The Huffington Post. Susan had a serious candle hoarding issue that she has no plans to address. She's currently obsessed with Marc Jacobs' new beauty line, her black Zara moto jacket, and Aaron Paul.
All author posts