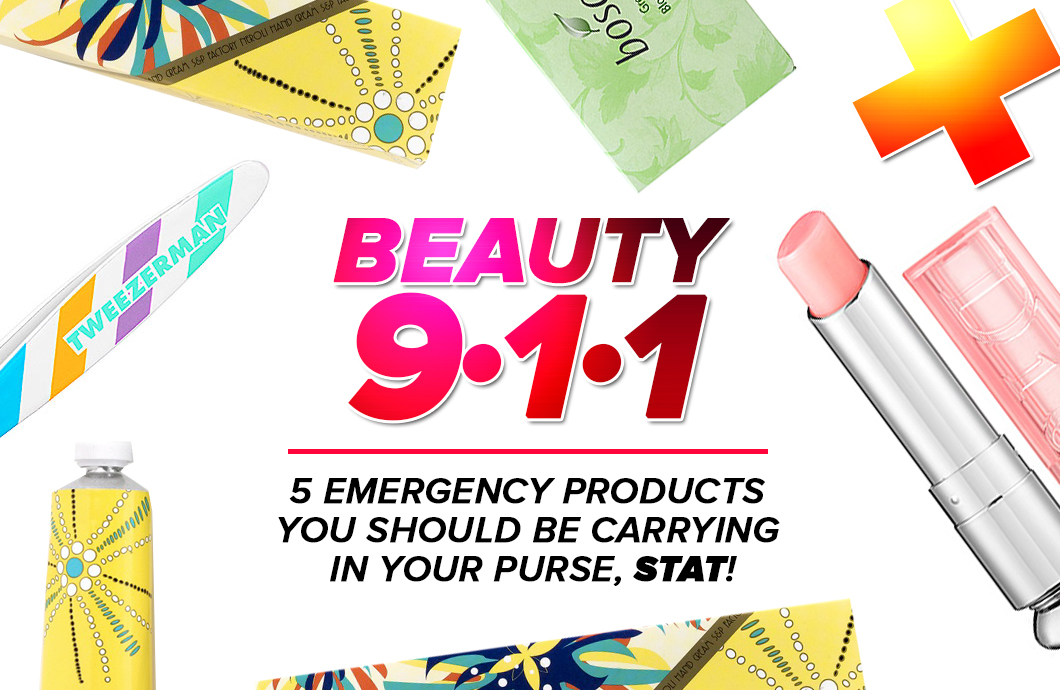 We've all experienced it before—the dreaded beauty emergency, and worse, one that usually happens when you're in a public place and are totally unprepared. Personally, my beauty bag is overflowing with products, most of which I would consider "musts" to have with me for the majority of the day.
However, when tasked with whittling down the list to just five, I had to consider what I really would determine an "emergency" item—those products that I'd really need should I be left without anything else to rely on. Here, my list of five 911 goods that everyone woman should have in her purse.
A Sheer Lip Balm with a Touch of Color

Dior Addict Lip Glow in Pink, $32
Keeping your lips hydrated is key, as is having a hint of color on hand in case you end up in an unexpected meeting or end up meeting someone unexpectedly. Dior's lovely, light pink balm does both—it soothes and protects your pucker, as well as enhances your natural lip color while adding a subtle hue that's pretty and presentable.
Hand Cream

Soap & Paper Factory Neroli Shea Butter Hand Cream, $18
Our hands are constantly exposed to the elements, so having a hand cream to smooth on throughout the day is essential. Soap & Paper Factory has an amazing line of Shea butter creams that are beautifully packaged and fit perfectly in your purse. My favorite is Neroli, which absorbs quickly, leaves my hands velvety soft and gives them a light scent that lingers subtly post application.
Tweezers

Tweezerman Stainless Steel Mini Slant Tweezer, $15
You never know when you'll spot an unexpected stray hair in an unsightly place. Having a pair of mini tweezers in your bag will solve that problem STAT. They're also good for separating lashes if your mascara clumps up (just remember to wipe the tweezers immediately afterward).

Blotting Papers

Boscia Blotting Linens, $12
These are especially key as the weather warms up, but even in the coldest temps, our skin can reveal shiny spots that we weren't counting on when we prepared our face at the beginning of the day. Boscia's Blotting Linens absorb oil immediately without messing with your makeup, and are so easy to carry around, you can even tuck them into one of your pockets for a quick touch up at any time.
Dry Shampoo

Klorane Extra-Gentle Dry Shampoo with Oat Milk, $9 (1.06 fl oz)
Dry shampoo is great for getting rid of the greasies when your hair isn't quite as clean as you'd like it to be. It also adds texture to your hair, so it can also serve as a great touch-up product for use at the end of the day when your style may have fallen flat. My favorite brand is Klorane, but there are plenty quality dry shampoos out there now. Grab a mini-sized bottle to stash in your purse so you're prepared if a hair emergency is thrown your way.

Tags:
Boscia
,
Dior Addict
,
Klorane
,
Soap & Paper Factory
,
Tweezerman