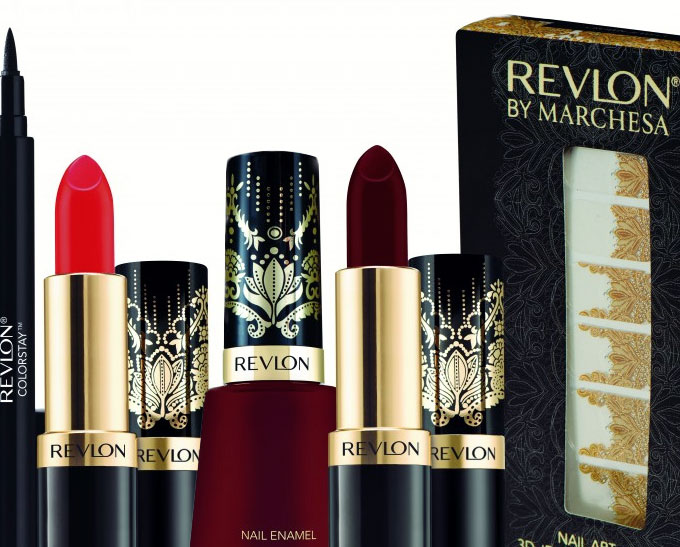 Beauty lovers, get ready to experience the new Revlon by Marchesa Red Carpet Collection, which is slated to hit shelves this month. Perfect timing for Valentine's Day, right?
Designers Georgina Chapman and Keren Craig teamed up with the beauty brand to produce an affordable collection of beauty products inspired by their Spring/Summer 2014 runway collection.
Their newest beauty collaboration, which feature rich, bold colors and textures as well as intricate lace packaging, is comprised of both makeup and nail products.
"We started by looking at all the various beauty tools that Revlon makes. We knew that we wanted to bring an elegant femininity to this collection and ultimately decided that the three designs should be inspired by three dresses from our Spring/Summer 2014 runway show. We think the result is quite romantic with the three intricate lace patterns" explained the designers behind Marchesa.
This is the third time the womenswear brand and Revlon have teamed up for a collection.
For those fashionistas (like us) that are on a limited budget, you can wear Marchesa and have your cake too, as the beauty range will retail from $4.99 to $12.99.
And even better news?  Revlon and Marchesa have set aside $15,000 for the organization, The Half The Sky: Turning Oppression into Opportunity for Woman Worldwide. The non-profit organization is a multi-media platform that raises awareness for women's issues.
Supporting my makeup habit and helping women in need? Double win! Someone please point me to the nearest CVS!
Look for this collection in early February.